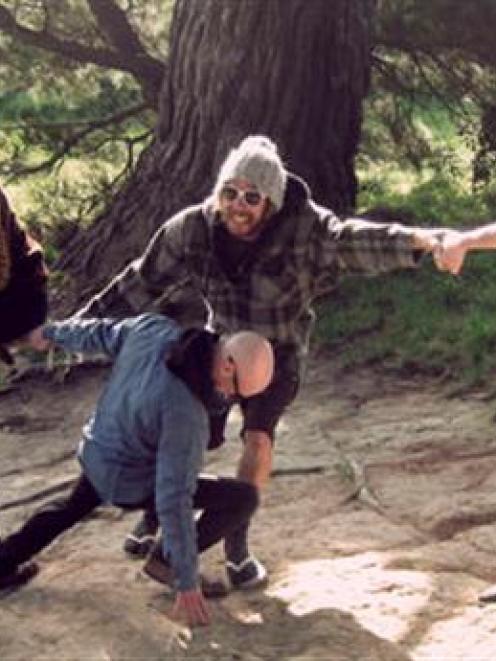 One-time Dunedin musician Anthony Lander is to return to town with brand-new band The Blue Onesies.
Lander is a former member of The Gladeyes, which morphed into the Tweeks then went to the UK before breaking up.
He describes his new band as: "a Wellington-based, psychedelic rock band".
Their EP is called Jim Rogers' Party Shack (named after the band's practice room) and is available to listen to and free to download at: theblueonesies.bandcamp.com.
The band is making its first trip to the South Island, playing shows in Christchurch and here in Dunedin.
Lander says people can expect a fun show when the band plays with Brown and The Something Quartet at Chick's Hotel in Port Chalmers on Friday, November 4.
---
Recordings lost...
Auckland noise merchants God Bows To Math are finally releasing their first full-length album.
The album is due out on November 14 , and the band says "Three years of hard work [has] finally come to fruition, [but] it wasn't an easy process." Originally recorded with regular sound engineer Daniel Speight, the album was intended for release in early 2011. However, a hard drive failure and Speight's return to the UK forced the band to rerecord the album in Wanganui with Warner Emery.
From there the recordings went to the Chicago Mastering Service (run by Bob Weston and Jason Ward) where Jason Ward gave a polished quality to the rough recordings.
---
...letters unsent...
Singer-songwriter Nadia Reid is coming to our neck of the woods.
She's just put the finishing touches on her debut EP Letters I Wrote and Never Sent which is the motivating factor in her decision to tour.
The 20-year-old Christchurch-based singer/songwriter has been forging a pathway in music and live performances with her understated music since she picked up a guitar at the age of 14.
Her debut EP was produced by Ben Edwards (The Sitting Room) and recorded at Quicksand Studios in Christchurch through Gold Sounds.
Unlike the All Blacks, her four-date tour of the country includes Dunedin, and she plays tonight from 7.30pm at the Otago Pioneer Women's Hall in Moray Pl, with Happiness Stan and Charlotte Ivey.
---
...memories jogged
If me writing the words "Montego Bay" puts the Jon Stevens song of the same name into your head, then for me it's job done.
Got you.
However, if that's a good thing, and you're happily humming along, hold on to your Zimmer frame, because Jon Stevens is set to release a new album, TESTIFY!, which promoters describe as "a collection of songs including rare '60s soul tunes, plus new originals, injected with the same down-home 'bluesy' feel".
The album was recorded over just 12 days in Los Angeles with producer and multi-instrumentalist John Fields, who's worked with The Commodores, Daryl Hall, Goo Goo Dolls, Pink, and Switchfoot.
---
For charity
Steve Apirima and Derek Lind begin a nationwide tour of free gigs in Dunedin on Friday November 4.
The tour is a fundraiser for the TEAR Fund charitable organisation.
TEAR Fund events manager Megan Claxton said the duo "are excellent musicians with a long list of albums to their names, and are loved by audiences around New Zealand as much for their music as their on-stage banter".
She says the pair are keen TEAR Fund supporters and have travelled internationally promoting the organisation's work.
The show is scheduled for a 7pm start at the Flagstaff Union Church, Wakari.
---