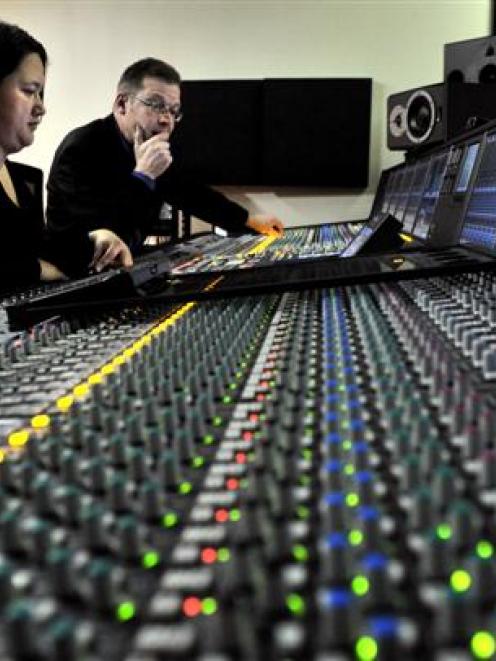 With New Zealand Music Month heading into the final straight, recording studios throughout the land are opening their doors to the general public.
The University of Otago's recording studios at Albany St are taking part.
NZMiC Albany Street Studios is taking part in the second National Recording Studios Open Day, next Saturday from midday to 4pm.
It is the first time the Dunedin studio has been involved.
Organisers hope the day will encourage more musicians and songwriters to take advantage of the wide range of quality recording studios and in-house recording professionals available around the country.

• Young ones
Chick's Hotel is known for hosting some of the country's best musicians and a host of entertainment from overseas.
However, next Saturday the venue is giving itself over to the youth for the afternoon.
Chickstock, as it's being called, begins at noon and runs until about 5pm, featuring 11 bands from Dunedin high schools.
Joining the 11 high-school acts are Dunedin bands Alizarin Lizard, Idiot Prayer and Mr Biscuits. The event is free and all ages are welcome.

• Rising up
This weekend New Zealand hosts the 12-hour Rise Up Telethon event to raise funds for Christchurch quake victims.
Those involved include Neil Finn, actor Sir Ian McKellen and Prince Edward.
Rise Up Christchurch begins at 9am on Sunday, and is being broadcast on Maori Television from Christchurch, Auckland and Wellington, with live crosses to regional centres and global activities in London, Los Angeles and Sydney.

• Aw, shucks
For fans of seafood and Greg Johnson, the Auckland-based musician is travelling to Bluff to indulge in some kaimoana and play some tunes at the Get Schucked festival, in Bluff tomorrow.

• Must be Love
New Zealand songwriter Jonny Love has just released his second album, and he says it comes about after a long dry spell.
"I had a real writer's block for about a year - pretty much the whole of 2009 was a struggle for me. So my girlfriend and I decided to go travelling," he says.
Love spent long stretches on the road listening to music and found his spirits lifting when he stumbled across the band Mumford & Sons.
"It really was a special moment. I was in a situation where I was utterly captivated."
It provided Love with the inspiration and momentum he needed.
He then wrote the majority of new album Courage.

• Moa supports
Songstress Anika Moa is scheduled to play three shows in the country with jazz rock music legends Steely Dan and British singer Steve Winwood.
The shows are in November beginning in Christchurch in the CBS Arena, followed two days later by a performance at Auckland's Vector Arena, and finishing in sunny Napier at the Church Road Winery.

• It's a hit
Cantabrian Hayley Westenra's latest album Paradiso has rocketed to the top of the music charts, breaking a notable record.
Westenra takes the outright lead as the New Zealand solo artist with the most No1 albums to her name.