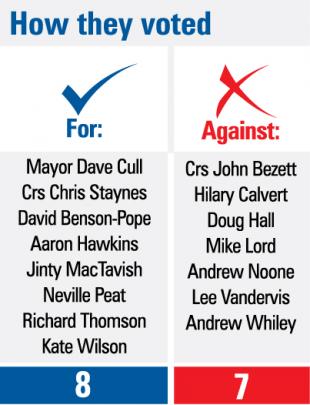 The Dunedin City Council has voted in favour of divesting its shares in fossil fuel extraction companies by the slimmest of margins.
The vote yesterday meant the council would also no longer invest in tobacco, arms, gambling and pornography, but it was the issue of whether to include fossil fuels which prompted the most vigorous debate.
A council staff-developed ''socially responsible investment policy'', which governs the council's $82.5 million Waipori Fund, ended up passing, with seven councillors and Dunedin Mayor Dave Cull in favour and seven councillors against.
Those in favour of dumping fossil fuel investments played down the financial risk and hailed the vote as a chance for the city to be a world leader.
Those against said the ''hypocritical'' move sent the wrong message to oil exploration companies Councillors on both sides of the debate argued the Dunedin public was on their side.
The vote gives fund managers two years to divest from the estimated $1.4 million in shares in the affected areas.
Cr Jinty MacTavish, who has been one of the strongest advocates of dumping fossil fuels, said people across the globe had taken note the Dunedin City Council was a world leader on divestment and urged other councillors to formalise the policy.
The ''important'' thing was the policy - with fossil fuels included - reflected what the Dunedin community had asked for during consultation on the issue.
Councillors on the opposing side disputed the suggestion the policy was backed by ratepayers, with Cr Andrew Whiley suggesting the ''silent majority'' were against divestment.
Cr Lee Vandervis said only a ''very select part'' of the community made submissions on the issue.
The ''people having smoko in South Dunedin businesses'' thought differently.
''They think the DCC has become some kind of ideological crock pursuing all kinds of zealotry on the supposed basis of a democratic process.''
Cr Andrew Noone supported the policy, except for when it came to fossil fuels.
''I can support the additional criteria, except for the fossil fuel extraction, which I find ... quite hypocritical when we rely so heavily on fuel to go about our day-to-day activity.''
He and others said divestment from fossil fuels sent the wrong message to oil and gas exploration companies when it came to choosing whether to base their operations in Dunedin if they made commercial finds offshore.
Cr Calvert said divesting was effectively telling those companies ''we are not on your side''.
Cr John Bezett was also against divesting from gambling, saying the proceeds from gambling helped fund the Masters Games.
Mr Cull said the suggestion Anadarko or Shell would be less likely to base their operations in Dunedin if the council divested from fossil fuels was a ''myth''.
''I have personally asked both companies what the criteria would be for setting up a support base ... and they say proximity and ease of use.
''They don't care how many Christmas cards we send them, they don't care what our investment policy is.''
He also disputed the suggestion divesting from fossil fuels was hypocrisy, saying it was about supporting alternatives.
Cr Richard Thomson, who also voted in favour of divestment, said a report by Russell Investments - which estimated the policy would have cost the council about $500,000 a year had it been in place over the 13 years from the year 2000 - was not a valid way of measuring how the fund would perform in future if an ethical policy was adopted.
This was because there was no consideration of what the performance would have been of shares which replaced those covered by the policy and because past performance was no indicator of future performance, Cr Thomson said.
Research - of which Cr Thomson cited examples - increasingly showed there was ''no difference'' in the performance of ethical funds.
Cr Aaron Hawkins had a go at his colleagues who opposed divestment.
''I find it ironic ... that my neo-liberal colleagues, those bastions of free choice, are standing here arguing members of this community should be compelled to invest in industries they don't believe in.''
Group chief financial officer Grant McKenzie earlier said it was difficult to predict how an ethical investment policy might perform compared with not having one, but there would be a cost when it came to administering the fund and likely an increase in volatility.