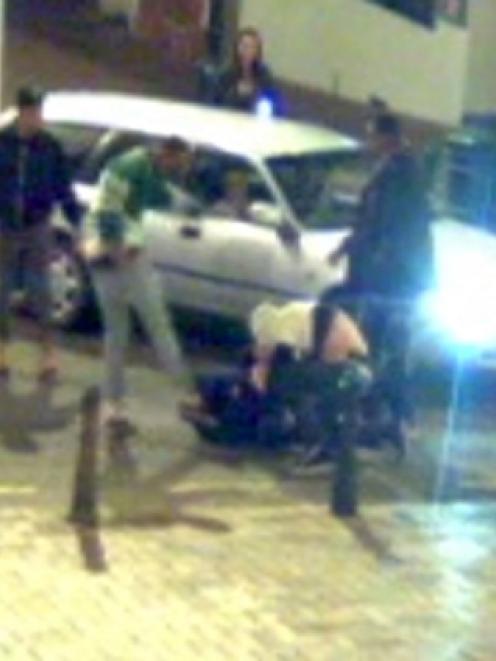 When people leave bars there will be trouble in the streets, but if they leave them earlier the trouble is likely to be less, Dunedin police say.
A line-up of Southern police heavyweights were present at Dunedin's Municipal Chambers yesterday to have their say on proposed council rules controlling when and where people can buy alcohol in the city.
Councillors grilled Southern Police District commander Superintendent Andrew Coster and alcohol harm prevention officer Sergeant Ian Paulin - supported by area commander Inspector Jason Guthrie and area prevention manager Inspector Mel Aitken - for an hour about the situations they dealt with late at night in Dunedin, and what evidence they had that proposals the police supported, including 3am closing and a 1am one-way door policy, would make a difference.
Bar owners filled the public gallery to listen. Sgt Paulin opened the police presentation with some hard-hitting CCTV footage of early morning alcohol-related assaults in the Octagon, including a man having his head stomped on and a woman being choked.
It was hard for police officers not to be affected by the level of alcohol-related harm they saw in Dunedin on a weekly basis, Supt Coster said.
''Innocent citizens are being harmed, seriously injured and killed by offenders who have consumed too much alcohol and it's time to say it's enough.''
Dunedin police had been called 500 times to help with alcohol-related situations in the CBD since blanket 4am closing came into force in December. The number was high,
but significantly less than the average 600 calls over that period in the previous five years when bars were open longer, he said.
He said the evidence was that alcohol-related harm increased exponentially each hour premises were open after midnight, but, because they were realistic, police supported the proposed 3am closing.
Restricting hours combined with a one-way door policy, which reduced the period people could pre-load and meant fewer people on the street between bars, which was often where problems occurred, was the internationally proven best way to reduce this kind of harm.
Smart operators could make good business in the new environment, which should see people arriving in town less drunk and more likely to spend more money in bars, as well as encourage a wider range of people into the central city.
Ultimately, the committee's decisions would come to balancing the unknowns against the knowns, he said.
''The unknowns are unsubstantiated claims [from bars] of economic hardships resulting from no longer trading on the dregs of a night's drinking. The knowns are there is significant alcohol-related harm in Dunedin; a vast majority of this occurs in central Dunedin and all late-night bars are concentrated in central Dunedin.''
Submitter Rosie Crozier earlier told the committee people who had come to Dunedin for the university and the nightlife would simply start parties instead if bars closed earlier, which was ''where the violence starts''.
''They might pre-load, but it's better for them to end the night in a bar than on the street.''
Kim Gotlieb and Deb Fraser, from Mirror Services, which works with young people with drug addictions, said the Lap needed to send a message to the Dunedin community about what constituted acceptable drinking behaviour.
For example, banning shots after midnight, as proposed, sent the message that fast and hard drinking was not acceptable.
The opportunity to control the density and number of outlets should not be missed either.
''There are 420 outlets selling alcohol in Dunedin. What message does this send to our young people?''Alcohol Health Watch's Amy Robinson reminded the committee it did not have to be sure a particular element would reduce alcohol-related harm, but it did have to act in a precautionary manner.
''You can't expect change by practising the same behaviours.''
The evidence said reducing
licensed premises' hours and the density of outlets were the most effective and lowest-cost ways of making the biggest impact on harm.
If people wanted alcohol, they would get it, former nurse Allan Travers said, ''We don't have to make it easier by making it easy to get all hours of the day.''