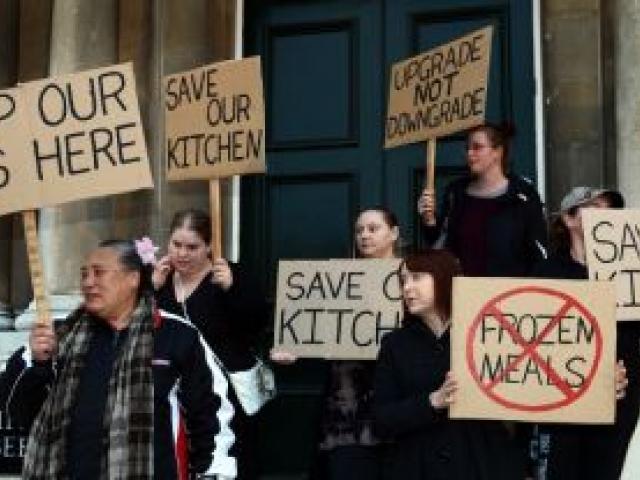 Concern over the proposed outsourcing of hospital kitchens dominated the first 30 minutes of a Southern District Health Board public meeting in Dunedin last night.
The meeting was to discuss the board's recently adopted ''Southern Strategic Health Plan''.
Apart from the about 35 people there to talk about the possible outsourcing, only a small handful of people attended.
Before the meeting, the group marched along Harrop St with placards.
The board is in consultation with workers over a proposal to outsource its food service to the Compass Group, a move that promises savings of about 0.05% (of total income, assuming no increases), or $7 million, over 15 years.
Dunedin city councillor Aaron Hawkins, convening the event, opened by greeting workers as ''comrades'' and saying that as disclosure, he was once a ''poorly treated'' fast food worker who belonged to a union.
Kitchen cook Val Summers asked chief executive Carole Heatly why the board had not come to workers sooner to find ways to save money.
Ms Heatly said the board had done so, but Ms Summers disagreed.
Ms Summers said it was difficult to form a counterproposal, because so much information was hidden by commercial considerations.
Communications director Steve Addison said the process had to be that way because of tendering rules.
Mr Addison was jeered by some when he told them Compass would provide ''nutritionally superior'' meals.
One said that was a ''disrespectful'' statement.
Another said she did not accept Compass did not already know how many staff it required if it took over.
Unions have been told Compass would not know for some time how many it would need.
Earlier, Ms Heatly had said the consultation period was extended to give staff more time to form a counterproposal.
Audience member Lyndon Weggery asked why the board did not follow the Waikato District Health Board, whose management recommended it not proceed with the outsourcing, and watch how it fared in Auckland. Ms Heatly said Waikato did not face the same budget pressures.
Mr Weggery repeatedly criticised Ms Heatly for her salary, which was $500,000 to $510,000 last year.
''You've been very personal, sir, in your attack,'' Ms Heatly said in response.