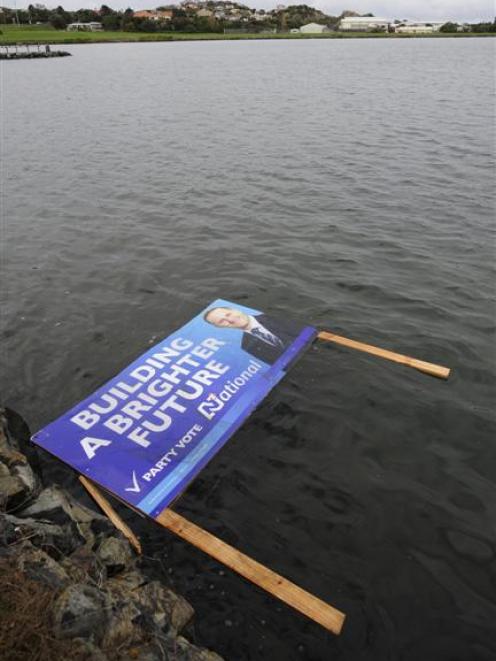 National Party list MP Michael Woodhouse is vowing to make those who vandalise his election hoardings pay after his and other MPs signs were damaged during the weekend.
A sign showing Prime Minister John Key and a National Party slogan was seen floating in the Andersons Bay Inlet yesterday and Mr Woodhouse said his signs at Waikouaiti were damaged on Saturday and replaced on Sunday.
"I won't rule out staking the signs out and collecting number plates to report to the police. I want to make sure we act on vandalism and there is a strong chance vandals will be reported to the police."
The cost of the first signs needed to be reported to the Electoral Commission but replacement signs could be placed without affecting election spending rules. However, each sign cost about $60 and constant replacement meant a significant cost to the electorate organisation and on the time of volunteers, he said.
Dunedin South MP Clare Curran said there was some damage done to her signs over the weekend, but it was not significant.
"I do believe that there was various damage last night because of more exuberance on display after the rugby."
She accepted that signs being damaged was a risk of the campaign but she hoped people would be more understanding this election and not do as much damage to the hoardings as had been seen in the past.
Dunedin North Labour candidate David Clark said he was sporting moustaches and blacked-out teeth on some of his signs but damage had been minimal after the weekend.
He started putting his signs up last Monday, following the "strictest interpretation of the law".
In Auckland, several Labour candidates had seen their signs removed after breaking Auckland City Council bylaws and the electoral law both for timing of their placement and their size. Mr Clark said he did not want to generate that sort of negative coverage and had followed the rules.