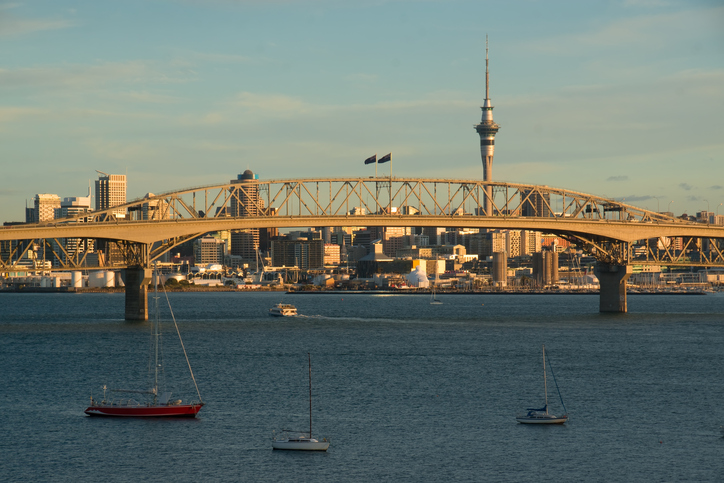 Whither Central Otago 2050?
What do you want Central to be like in 30-odd years' time? Are you happy with the idea of large-scale development continuing at pace, or do you want a halt called now? What effects might a sprawling Wanaka-Cromwell-Queenstown city/metropolis have on the region and on its points of difference which attracted people there in the first place?
You'll notice I'm trying to remain circumspect about my own views, although I'm sure that by even posing these questions it gives away my concerns.
Gavin Dann of Alexandra's email on the subject caught my eye. He rather cheekily attached a photo of the centre of Auckland, complete with Sky Tower and harbour bridge, saying this is what Central will look like in 2050.
"The photo below is what will be taken in 2050 from Queenstown's Skyline Gondola terminal. The bridge is across the Frankton Arm of Lake Wakatipu to Kelvin Heights, with Frankton in the distance! I am not sure what has happened to the Remarkables range behind - perhaps a big earthquake knocked them over?
"Seriously, I really dislike what is happening to Queenstown and Wanaka at present. We have a catch-22 situation in both towns, in which growth is perpetuating growth, resulting in both losing their charm and appeal."
John Cushen, of Queenstown, says he has "for some time been very concerned about what appears to be a `bigger is better' approach to the management of this tourist destination".
"Those who read the ODT regional news pages and the Mountain Scene may have noticed recently an increase in the number of articles and letters to the editor from people who are trying to ring the warning bells."
John lists rising concerns about the burden on a small local rates base to fund infrastructure, declining water quality, pressure on residents to accept Queenstown Airport's proposals to double aircraft movements and expand noise-control boundaries, plans to increase helicopter flights and rezoning of rural land to allow for more large housing developments.
He also points out locals leaving and refers to hospitality industry doyen Doug Champion, who, after 45 years in Queenstown, has departed, disillusioned about the town's congestion and worried its sense of community is breaking down.
John says: "Many people I talk with believe a halt to new hotels, increased flights and rural subdivisions would allow the community to take stock and ensure that Queenstown remains the place they want to live in.
"Big business may want to continue the tourist-number explosion but does the community as a whole want this? With three new hotels opened recently, and more than 1000 new hotel rooms either consented or proposed, it certainly appears that big business is determining the direction Queenstown is going in.
"It was great to see Sir Eion Edgar and Destination Queenstown's Graham Budd come out publicly against the Queenstown Airport's proposed expansion plan. For those who remember the Australian movie The Castle, it was pleasing to see both these men `telling the airport they are dreaming'."
John also quotes Joni Mitchell's poignant Big Yellow Taxi:
Don't it always seem to go,
That you don't know what you've got till it's gone.
They paved paradise,
And put up a parking lot.
Thanks John and Gavin.
Keen to hear more thoughts from readers on the matter.
Oxymorons
Belinda Carr passed on a good one.
"One that drives me up the wall is `quad bikes'."
I had to think about that for a few seconds before getting it. Good point, Belinda.
Who's that?
A workmate tells me of the time he was the subject of mistaken identity.
In the Octagon, a woman came up to him and put her arms around him, saying she hadn't seem him for such a long time.
He, of course, had never seen her before, and she quickly pulled back when she realised her mistake.
"I'm so sorry," she said awkwardly.
"I'm not," he replied.
On that note, have a great weekend.