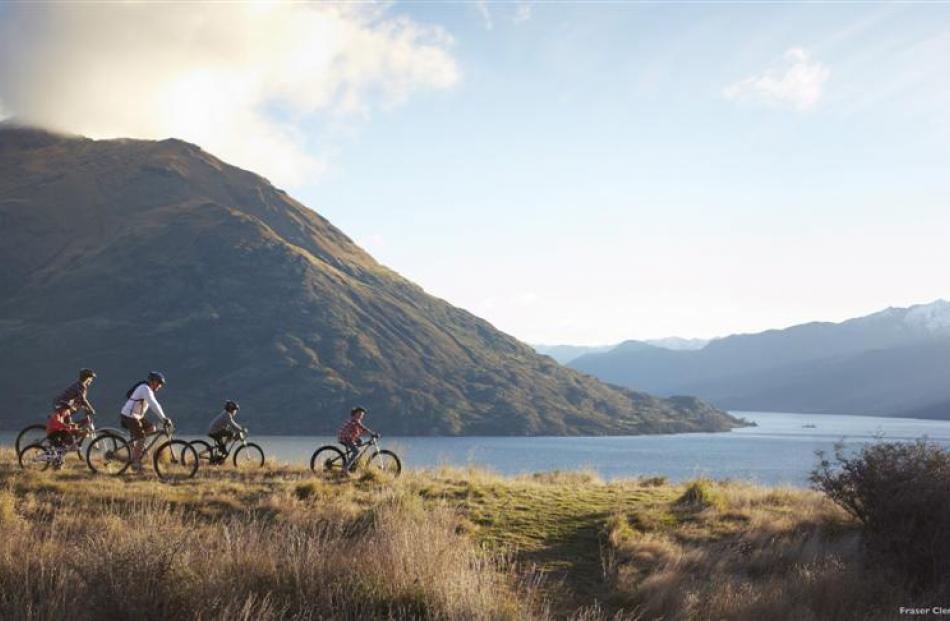 Southern Lakes vistas play a key role in the first stage of the new global "100% Middle-earth, 100% Pure New Zealand" campaign, which draws on The Hobbit films, Tourism New Zealand says.
The landscapes of Queenstown, Glenorchy, Wanaka and Milford Sound dominate the two-minute commercial, designed to entice overseas tourists to have their own adventures in the footsteps of Frodo, Gandalf and the Fellowship and, from December, Bilbo, Gandalf and 13 dwarves.
Tourism New Zealand chief executive Kevin Bowler said the commercial targeted all potential travellers to New Zealand by portraying the country's stunning scenery and unique activities and experiences. The commercial's narration is by British actor Sir Ian Holm and is themed around Middle-earth.
Asked what benefits businesses in southern locations could get from the exposure of The Hobbit trilogy, Mr Bowler said, "We conduct research with our target market of people already considering a holiday to New Zealand, and of that group, 53% of our target audience are aware that The Hobbit films are being made, and of this group, 87% of these are aware that New Zealand is the location.
"We also ask whether this awareness [is] increasing people's interest in New Zealand as a holiday destination. Overwhelmingly, people are saying yes.
"We anticipate that any region or business with a connection to the locations of The Hobbit movies is likely to see an increase of travellers seeking a Middle-earth experience."
Southern Lakes chairman Jeff Staniland, of Queenstown, said he thought the region's exposure was "fantastic" and would encourage more tourists.
"It's great for our region to feature so much. It's great publicity and again highlights what amazing scenery we live in."
Tourism New Zealand brand and international public relations general manager Catherine Bates told Trenz 2012 delegates and media in Queenstown in May the campaign aimed to build on the perception by marketing the country as a real land of "amazing experiences and welcoming people".
The campaign has been launched in Australia and will screen in cinemas and on television in New Zealand's major tourism markets in September and October.
In each of the target markets, campaign work will link the promotion of Destination New Zealand to travel offers.
Air New Zealand began screening the commercial on Air New Zealand domestic jet flights last week.
---
Commercial locations
The full shot list for the extended "100% Middle-earth, 100% Pure New Zealand" commercial can be watched on YouTube.
Locations are:
• Milford Sound.
• "Giant eagles" above Mt Alfred, near Glenorchy.
• "Where rivers run hot", Waitomo Caves, Kerosene Creek, between Taupo and Rotorua.
• "Warrior princesses", Onemana Beach, Coromandel.
• "Wizards turn water into wine", Rippon Vineyard, Wanaka.
• Whenuakura, or Donut Island, Whangamata.
• "Where four-legged creatures swim", Clutha River, Wanaka.
• "Where sea creatures walk on land", Kaikoura.
• "Blaze a trail through blades of gold", Jack's Point, Queenstown.
• "Metal hawks soar", Bowen Valley, Milford Sound.
• Lake Quill.
• "Treasure is found underfoot" at the Lost World, Waitomo.
• The bonfire scene at Onemana Beach, Coromandel.
• Mt Hikurangi.
• Hobbiton, near Matamata.
---