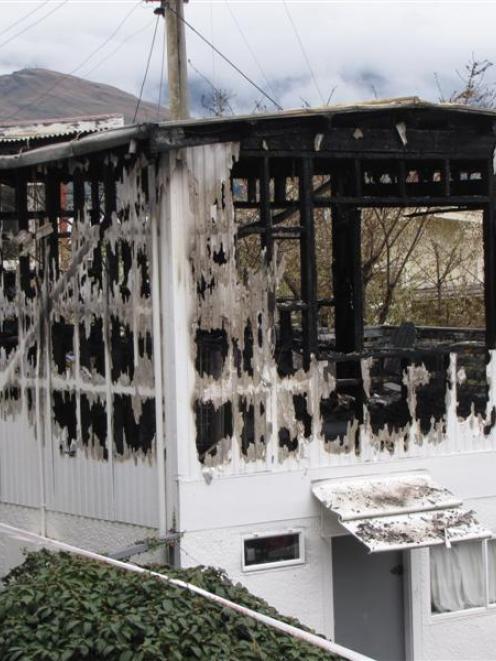 Queenstown police are appealing for witnesses to a fire they are treating as "potentially suspicious" which destroyed the upper storey of an unoccupied Glasgow St property early on Saturday.
Detective Sergeant Brian Cameron, of Queenstown, said a neighbour was woken by noise from the fire at 5.50am and alerted emergency services.
Crews from Queenstown and Frankton arrived within a few minutes to fight the fire, which was "fully engaged", Det Sgt Cameron said.
Southern Region Fire Safety Officer Stuart Ide told the Otago Daily Times at this stage no cause had been established.
"We're still following some lines of inquiry regarding electricity [and] police are following their leads."
Mr Ide said the material used on the exterior of the house was "Polite board", which was understood to have an asbestos base.
Queenstown Lakes District Council contractors were at the address on Saturday afternoon removing fire debris from the street and neighbouring properties to within the cordon of the affected property.
"As long as it's wet it's stable ... they're picking it up as quickly as they can."
Det Sgt Cameron said a joint investigation by the fire service and police had begun and, given the property appeared to have been unoccupied for some time, the fire was being viewed as potentially suspicious.
Examiners from both the fire service and police spent Saturday morning at the address, while other officers went door to door seeking witnesses.
He said police had yet to speak to the overseas owner of the property who lived in a "remote location", although they had made contact with a family member.
Anyone who saw or heard anything before the fire service was called at 5.50am on Saturday was asked to contact police on (03) 441-1600.