Trip to the Moon. A Traveller's Tale. Jazzscore (Southbound) CD
This disc is by New Zealand musicians Tom Ludvigson on piano and synthesisers, and Trevor Reekie guitars, loops and ebow (an electronic bow for guitars),  assisted by Nigel Gavin on glissentar (an 11-string acoustic/electric instrument), Greg Johnson (trumpet), and Jim Langabeer (saxophones).
They present a nine-track programme of  "electro-acoustic ambient nu-jazz meditations".
Why feature in a classical column?
Boundaries between the use of electronics in classical music (started by composers like Stockhausen, John Cage, New Zealand's Jack Body and many others) and jazz/pop are in the "no-man's land" where definitions shift, we can hear music that is not obviously pop, jazz or classical.
Experimental explorations by this group offer unique new sounds or electronic manipulations for listeners.
Some may not please listeners but others impress.
Verdict: Interesting, controversial exploration.
Brahms: Lieder and Liebeslieder Waltzes. Soloists with James Levine, Yefim Bronfman (pianists). Deutsche Grammophon CD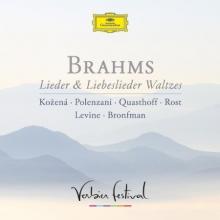 Lieder is the German word for songs, liebeslieder are love songs.
Brahms' delights are sung here by Andrea Rost (soprano), Magdalena Kozena (mezzo-soprano), Matthew Polenzani (tenor), and Thomas Quasthoff (baritone).
It is the first release of a live concert from the 2003 Verbier Festival, featuring 11 lieder solos with Levine accompanying and 32 liebeslieder waltzes, a generous more than 80 minutes of wonderful singing in true chamber style.
The singers take turns to interpret Brahms' moods in various styles and colour, then join forces in the ever-popular Liebeslieder Waltzes.
The 15 New Liebeslieder Waltzes Op.95 are particularly colourful with Bronfman bringing a second piano into the accompamiment for these masterpieces for fine singing.
Bouquets are deserved for all in this recital.
Verdict: Brahms' enjoyable songs.