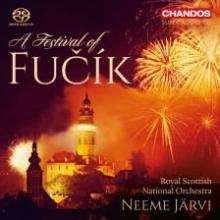 A Festival of Fucik.  Royal Scottish National Orchestra. Chandos CD
The name Julius Fucik (1872-1916, born in Prague) may not mean much to many classical fans but he composed a march, Entry of the Gladiators, that is probably the most performed work by any Czech composer.
Originally called Grande Marche chromatique (written to show what the latest brass instruments in 1899 could do) it was later taken up in a brass band arrangement called Thunder and Blazes that has since then enhanced circuses around the world as a screaming march to herald the arrival of their horses, elephants and clowns in the ring.
It is now heard in its original form, with 13 other works, that show not only the military band concert-master career of Fucik, but show his talent as orchestrator and composer of sparkling music that is great fun, with its harmonies, rhythmic surprises and foot-tapping brio.
These are spectacular and exciting performances by the orchestra (conductor Neeme Jarvi) magnificently recorded in Chandos "super audio" 24-bit system with its wider dynamic range and finest resolution of sounds.
There are many other programme delights such as Merry Blacksmiths, with two differently tuned anvils being struck among the percussion, The Old Grumble, a comic polka featuring a virtuoso bassoon solo, and The Mississippi River reminding of Sousa marches.
Danube Legends and Florentiner are suitably evocative, and concert overtures and ballet waltzes all have swagger or charm. And that grand circus march gets a serious hearing with its catchy trio, all wonderful stuff. This may be light music but it has quirky surprises and great energy to be enjoyed. Fucik wrote crowd-pleasers deserving of more concert play.
Verdict: Album of pleasant surprises.
- Geoff Adams