The stresses and strains of 2020 have led many to rediscover the joys in simpler pleasures. Afternoon walks, indulging in a good book, meals prepared at home, shared with family and so on. 
Among a number of wine-loving friends and contacts a common thread has been opening "special" bottles of wine.
How one denotes a "special" bottle is as different as my contacts. It could be a rare producer picked up travelling overseas, an uncommon grape variety that "you have always wanted to try", a cherished gift from a friend, something expensive that you absolutely splurged on or an aged bottle from your cellar that has been waiting for the right occasion.
For wine lovers, there is enormous pleasure to be had in an aged bottle from one's own cellar. The simple act of keeping a wine cellar seems to fly against social convention.
Life has become very much about immediacy, "living in the now", overnight delivery, buy now pay later: concepts that are very much the antithesis of patience in the quest for future reward.
At the same time, we are bombarded with adverts for products that aim to defy the passage of time: skincare creams that "fight the signs of ageing", hair products banishing grey, tooth-whitening gels and the like. Somewhere along the way, we have sidelined the art of maturing gracefully.
That's not to say that all wines need to be tucked away. The vast majority of wines you will find in your local supermarket or wine store are made to be enjoyed the moment they leave the premises. They won't wither away if you forget them in the cupboard, but nor is there any appreciable gain.
Typically, wines from classic European wine regions have long shown a propensity to grow in complexity and interest in the cellar.
German Rieslings, Vouvray (Chenin Blanc) from France's Loire Valley, wines from Bordeaux, Burgundy, the Northern and Southern Rhone all in France, Barolo and Barbaresco from Piedmont in Italy and Vintage Port from Portugal are just some examples.
Domestically, top merlot and cabernet-based blends from Hawke's Bay and Waiheke Island can blossom in the cellar, while top pinot noirs and rieslings from around the country are more and more showing the ability to age gracefully.
How much time these bottles require is partly a personal choice, some having a preference for primary fruit characters, while others love secondary or tertiary characters in their wines. You can only find out where you sit in this spectrum by trying as many older bottles as you can. Having generous friends with a cellar is always a useful starting point for tasting older bottles, but there are a couple of alternatives.
Wine auctions are a useful avenue for unearthing older bottles and a  Google search will lead you to the three Auckland-based auction houses. Lots vary from single to multiple bottles and full cases; just remember that there will be buyer's commission that you pay to the auction house and GST on the buyer's commission on top of the hammer price, along with freight to get them home.
Some wineries occasionally release small parcels of mature wine, so getting on mailing lists is your best avenue for finding them. Pegasus Bay in North Cantebury is one such, having devoted considerable resources to a cellar maturation programme, which has seen them releasing a trio of  10-year-old wines each year for the last several years. Well worth getting on their mailing list.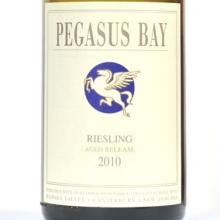 2010 Pegasus Bay
Aged Release
Riesling
Price: $40
Rating: Outstanding
An alluring and complex nose of beeswax, spices, honey, mandarin/orange, musk and wet stones that draws you back for more. Creamy, honeyed palate with musky botrytis notes, spices and apricot too, off-dry yet with a shaft of racy acidity. There's power here, yet lightness and lift. This sings the praises of aged Riesling so well. Marvellous stuff.
www.pegasusbay.com
2010 Pegasus Bay
Aged Release
Pinot Noir
Price: $65
Rating: Excellent
Hard to pull individual characters out, a rounded, mellowness with a little wildness, forest floor/leaf, rhubarb and florality as it opens up. Fruit-filled front palate adding tea leaf, earthy and savoury nuances, a bittersweet element on the close too. Tingly acidity gives freshness. This feels nicely resolved and in the slot to enjoy now.
www.pegasusbay.com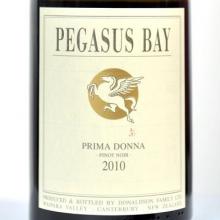 2010 Pegasus Bay
Aged Release Prima Donna Pinot Noir
Price: $120
Rating: Outstanding
Wonderfully complex nose of earth, smoke, roast beetroot, plum, oak spices, and olive, forest floor notes with time. There's real juiciness to the palate with its sweetly fruited core of plum, blackberry and dark berryfruit, a little cedar and tilled earth with aeration. A corset of fine tannins gives this chewy grip. Drinking superbly yet there's still gas in the tank.
www.pegasusbay.com