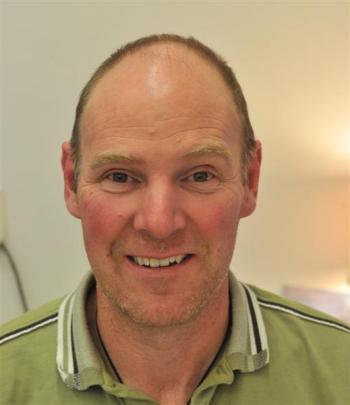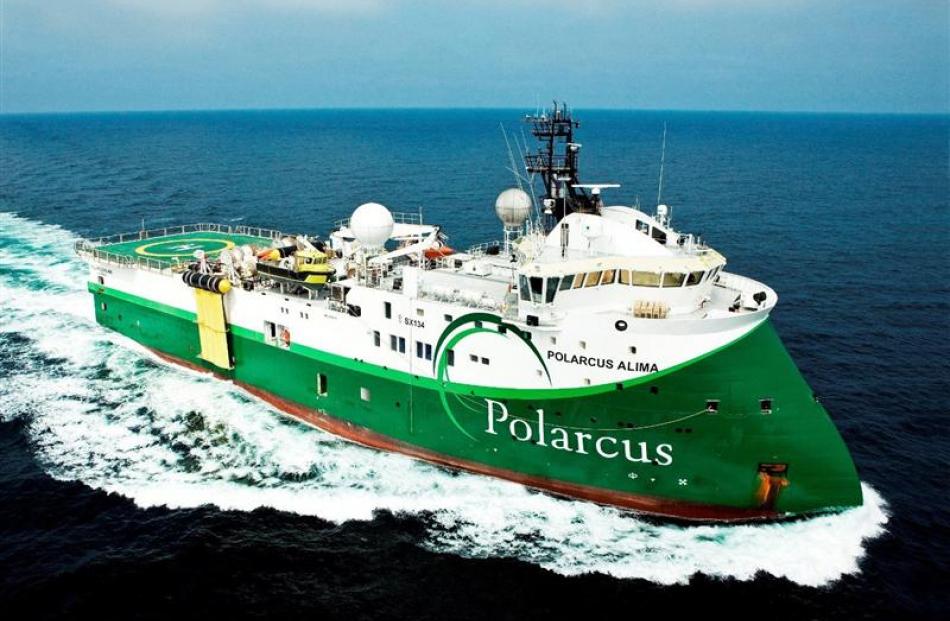 Oil and gas exploration in our backyard is on its way. No matter whether you are for or against deep sea drilling, it is set to begin in earnest off the Otago coast. What is involved? How real are the potential benefits and risks? And who would reap them? During the next few weeks the Otago Daily Times will examine these and other questions to give readers a comprehensive understanding of the issues and the facts. Today Bruce Munro begins by asking why all the interest in our patch, and why now?
Nearing lunchtime on Christmas Day, the 60 crew of the Polarcus Alima were still hard at work.
For eight days straight, working in shifts, 24 hours a day, they had guided their large survey ship slowly, steadily, backwards and forwards across hundreds of square kilometres of featureless ocean beyond sight of the Otago coastline.
Trailing behind the vessel was a kilometre-wide swathe of 12 seismic streamers - each 8km-long streamer a high-tech listening device recording sound waves bouncing up from the seabed after being emitted by the ship.
It would be the last day of 2013 before the crew's mission was completed.
And it will be the middle of this year before the sound-wave data has been processed - transformed into a three-dimensional picture of 20-million-year-old volcanoes, rivers, valleys and mountains now buried beneath four or five kilometres of ocean-floor rock.
It will then be a further year or two before scientists will have spent enough time poring over the images to be able to say where they believe organic material from that ancient landscape is likely to have gathered and ''cooked'' to produce oil or gas.
Oil and gas exploration. Off the coast of Otago. Right now.
The Christmas-time survey, commissioned by New Zealand Oil & Gas (NZOG) and Beach Petroleum, is just one of a handful of petroleum industry forays into the Great South Canterbury Basin (GSCB) that have taken place recently or are scheduled to happen in the next two or three years. And they are not lightweight endeavours. Together they represent an investment of more than $NZ300 million.
This hive of activity appears in stark contrast to Otago's flagging economic fortunes. The region is bleeding jobs. During the past two years, there have been job losses at, among others, Kiwirail, the Milburn wood-processing factory, Dunedin City Council-owned Delta, NZ Post and the Department of Conservation.
Last week, more Macraes miners were made redundant, bringing the total number of Oceana's former Otago employees who have lost their jobs since September to about 150. On top of that, more than 100 highly skilled jobs at Invermay remain under a cloud as AgResearch considers sending them to either Lincoln or Palmerston North.
And then, over the horizon, comes the petroleum industry. Saviour? Coincidence? Temptation? Why are they here, in our backyard? And why now?
Without the New Zealand government's invitation, they would not be here. The National Party believes the oil and gas sector offers the country one of its best chances for economic growth. Not long after becoming the Government in 2008, National formulated its Petroleum Action Plan with the aim of maximising the ''safe and environmentally responsible'' development of the resource.
Since then oil and gas exploration has been on the increase. Petroleum industry expenditure has been at historic highs, totalling $8.3 billion for the six years to 2012. Oil is this country's fourth-largest commodity export. This year is predicted to be one of the largest exploration seasons in New Zealand, with an anticipated 13 offshore wells and about 30 onshore wells to be drilled.
So far, however, all the oil and gas production has come from Taranaki, on the North Island's western flank. The Government's petroleum royalties, which rose sixfold to $512 million when the Taranaki-based Tui oil field came on stream in 2008, have since declined steadily to $334 million in 2012 as the field has started to run out of steam.
But New Zealand has 17 other largely uncharted basins that the Government is keen to see explored and ''maximised''. Among them, stretching from Banks Peninsula to 250km south of Stewart Island, is the GSCB which has a combined area, mostly offshore, of about 400,000sq km. Industry pundits say the GSCB is more likely to contain gas than oil, but that gas field could be significant, if only they could find it.
The GSCB saw a flurry of exploration during the 15 years to the mid-1980s. Twelve exploratory wells were drilled. Five showed signs of non-commercial levels of gas or oil. The rest were dry. All were plugged and abandoned. But now the survey ships and drilling rigs are back.
NZOG and Australia-based Beach Petroleum invested between $6 million and $10 million in their Christmas 3-D seismic survey of 680sq km in deep water between Oamaru and Dunedin.
At the end of this year, or early 2015, NZOG is likely to follow that up with a much larger 3-D hydrographic survey, in partnership with large Australian oil and gas company Woodside Petroleum. The survey, believed to be about 200km southeast of Stewart Island, could cost more than $20 million.
Next month, United States-based Anadarko will drill a test well 60km off the Otago Peninsula coast. The $130 million project will be in 1100m of water and will drill to 1700m below the sea floor.
Shell has announced a partnership with OMV New Zealand and Mitsui E&P Australia to drill a test well somewhere in its licensed area southeast of Dunedin in the summer of 2016-2017. The project will cost between $100 million and $200 million.
The Government has issued its invitation. Technology advances have made it possible for the industry to take up that offer with greater likelihood of success. Dr Andrew Gorman, who researches marine geophysics and teaches hydrocarbon basin studies and seismic imaging methods at the University of Otago, says all aspects of oil and gas-exploration technology have improved significantly since the 1980s.
Most of the large petroleum companies have done a lot more deep-water exploration in the past 30 years, and have developed technologies to do it more effectively, he says.
Much more powerful computers have enabled more detailed and accurate surveying. Hydraulic drilling bits (eliminating the need for the whole drilling stem to rotate) provide more stability with less wear and tear. Directional drilling (rather than vertical drilling) means operators no longer have to be directly above the drill site and can even operate multiple drills from one platform.
And changes in production technology allow, for example, gas to be liquefied at sea ready for transport, removing the need for expensive sea-to-shore pipelines.
The primary reason for deep-sea drilling in our patch, however, is that the easy finds are gone. So the search is being widened in order to supply the global demands of our fossil-fuel hungry industries and lifestyles.
John Pagani, who is spokesman for NZOG, says oil and gas finds that were deemed non-commercial in the 1980s, when oil was $NZ12 a barrel, are worth pursuing in a $NZ114/barrel world.
For example, the Kupe field, which is the fourth-largest gas field in the country, was discovered in 1986 but not developed until 2009, by which time it had become commercially viable.
When it comes to the GSCB, the drilling of three or more decades ago showed the presence of a ''hydrocarbon system''. But the operators at that time did not find a reservoir, Mr Pagani said. If such a find is made, the Government says it would be ''an economic game-changer'' for the nation and would bring ''job creation, higher wages, higher demand for local goods, services and capital, and new investment'' to the region.
David Robinson, who is chief executive of the Petroleum Exploration and Production Association of New Zealand, has tempered the hype by saying while the potential benefits are realistic, the chance of finding a commercially viable gas field is slim.
But in the high stakes, high returns petroleum industry you have to be in to win.
So the race is on.