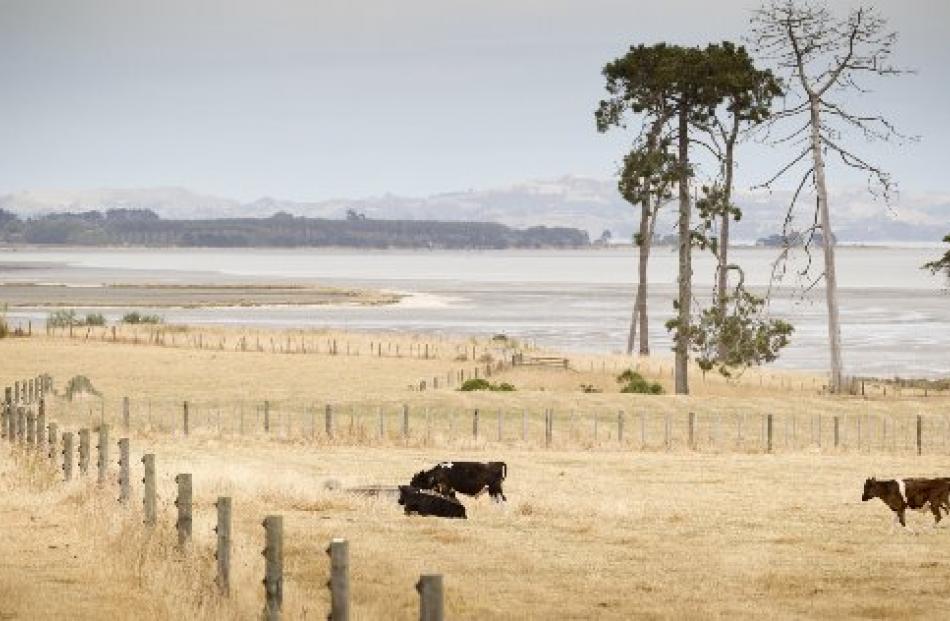 Shell New Zealand chairman Rob Jager concedes there are issues with his product. But he says as long as people keep using it, Shell will keep drilling, Chris Morris reports.
Otago's oil and gas boom is, in a sense, already under way.
The first drill ship has appeared off the coast, the first test well has been completed, and the first taste of oil and gas money has hit the city's tills.
According to Shell New Zealand chairman Rob Jager, the cash injection could be just the start of something much bigger for Otago.
The Otago Daily Times sat down with Mr Jager in New Plymouth for a wide-ranging interview during the newspaper's week-long investigation of the Taranaki oil and gas industry.
He was happy to talk about his company, and his industry, as well as tackling the challenges posed by climate change and the accusations of his critics.
His comments came as Shell - together with joint venture partners OMV and Mitsui - prepared to drill a test well off the Otago coast some time in early summer 2016.
The companies will follow in the footsteps of Anadarko, which departed after completing its first test well earlier this month, saying little about results.
Whether the activity will translate into commercial extraction might not be known for years.
But, if it happened, the results could be worth the wait, Mr Jager said.
Shell NZ was considering ''about eight'' development schemes for Otago, depending on what - if anything - was found off the coast.
Natural gas was considered more likely than the ''very small'' chance of striking oil in the Great South Basin, he said.
That would please some who might otherwise draw a line in the sand at the environmental threat posed by an oil spill and who considered natural gas a cleaner, safer alternative.
But natural gas also made things more complicated, as finding it was only part of the puzzle, Mr Jager cautioned.
The companies extracting natural gas required domestic users to sell the gas to, or the facilities to export it, he said.
A domestic market existed across the North Island, including heavy industrial users such as Taranaki's Methanex methanol plant, but did not - at least yet - in Otago, he said.
Without a domestic market in Otago or the South Island, Shell and its joint venture partners would need to find enough natural gas to justify investment in an export operation and its associated facilities, he said.
A small, but still exportable, find could see much of the activity taking place offshore, with a floating liquefied natural gas (LNG) facility built and positioned off the coast, Mr Jager said.
Such LNG facilities were ''basically a very large floating structure'', up to 488m long, and used a large refrigerator system to cool the gas to -160degC, converting it into a liquid form, he said.
Once converted to a liquid, it could then be transferred straight from the facility to ships without coming ashore, and shipped straight to buyers overseas, Mr Jager said.
Alternatively, a larger find could see the gas piped ashore to a processing facility somewhere along the Otago coastline, before eventually being exported, he said.
Such a shore facility could still include an LNG plant, ''or various other forms of development'', he said.
''If it's a lot of gas, then it is potentially more likely to be something that is developed onshore.
"If it's, relatively speaking, a smaller amount of gas, then we're fortunate to have something like floating LNG that might still make it economic to develop it.
''But that is a long way in the future.''
However, one thing was certain - there would be economic benefits for Otago, regardless of whether the development took place onshore or off the coast, he said.
An onshore facility would allow other industries to build up around it, even if the product itself was to be exported, but an offshore facility would still require support from local companies, he said.
Some of that local support was already generating cash for Dunedin companies, as the seismic survey vessel Aquila Explorer continued to scour the seafloor off the Otago coast on Shell's behalf, he said.
A crew change to support the vessel's activities poured about $500,000 into the Dunedin economy, he said.
That included transport, food and accommodation costs associated with the fresh crew arriving in the city, as well as the food and fuel taken on board the Aquila Explorer at Port Otago, he said.
It was the kind of local economic benefit overlooked by some industry critics who claimed jobs and profits flowed offshore, leaving behind only the threat of an environmental catastrophe for the host community.
If more evidence was needed, critics need look no further than Taranaki, he said.
There, Shell had become ''an integral part'' of the community over 50 years, providing jobs, money and investment while working to mitigate the effects of the industry, he said.
That does not satisfy those who argue the industry's continued search for fossil fuels, as climate change threatens, distracts from the need to switch to renewable energy.
Others argue the industry's desperation to find new deposits, as more convenient oil and gas reservoirs dry up, is forcing it to expand into - and disrupt - small rural communities in Taranaki.
But, perhaps surprisingly, the critics have a sympathetic ear, of a sort, in Mr Jager.
He told the ODT the company was among the first to accept the reality of man-made climate change, and also agreed Shell's hunt for hydrocarbons was having an effect on the community.
The industry's relations with neighbours were ''not always beer and skittles'', but Shell tried hard to work with the community, as well as protecting the environment and ensuring its operations were safe, he said.
Noise pollution, for example, could be addressed by restrictions on heavy vehicle movements - to avoid operations late at night or during morning and afternoon school runs - or by double-glazing neighbours' homes, he said.
When it came to climate change, Mr Jager was less sympathetic.
He said the ''reality, regrettably'' was that the expected jump in the world's population - from 7 billion to 9 billion by 2050 - would fuel a doubling, or even a tripling, of the world's energy demands.
That was expected to outstrip forecast increases in energy sources of all kinds, leaving a gap that needed to be plugged if developing countries were not to go without, he said.
The challenge was to meet that demand while minimising the environmental impact, and that was where natural gas - including any hiding off Otago's coast - could play a part, he said.
''Gas is probably one of the best, quickest ways of meeting our energy demand and reducing our impact on the environment. It's not stopping the impact, but it's significantly reducing it. If you can replace coal with gas in power stations, you reduce your CO2 emissions by 50%-70%.
''The biggest impact that New Zealand can have on climate change is probably to export gas to places where they would otherwise be burning coal.''
That does not wash with some critics, whose protest activities have included disrupting a meeting between Shell representatives and a group of Dunedin businesspeople in April last year.
Mr Jager said his critics had a right to be heard, but so, too, did Shell.
''We need to find better ways that are economically viable to meet our energy needs, and a lot of the renewables, regrettably, are not economically viable, and they require a lot of energy in the first place to construct.''
That had not stopped the company exploring a range of options - from hydrogen to solar, wind and wave energy, and now second-generation biofuels - while shifting its primary focus from oil to natural gas, he said.
It also supported an emissions trading scheme as a way of putting a higher price on carbon-producing energy sources, to encourage innovation that could make renewables a viable investment.
However, individuals also had to play their part, if the demand for dirtier fossil fuels was to be addressed, Mr Jager believed.
''We [Shell] don't rely on fossil fuels. You and I rely on fossil fuels. That's the problem. If you and I stopped using fossil fuels, then oil companies might stop looking for them.
''How many people buy the more expensive organic products from the supermarket? Come off it. We buy the cheapest [stuff] that is on the shelves and then moan about the fact it all comes from China.''
But, asked if he was acknowledging some of the evils of his product, Mr Jager said it was ''a wonderful line to put in the newspaper''.
''I acknowledge that hydrocarbons ... have a likely impact on the environment, absolutely. But I also say that it is an integral and fundamental and critical part of a working society.
''As appealing as it is to say we don't like the climate change problem, it's regrettably not in my gift to flick a switch and say 'well, OK, let's not start doing that'.
''If I don't produce it, do you think things are going to change?''