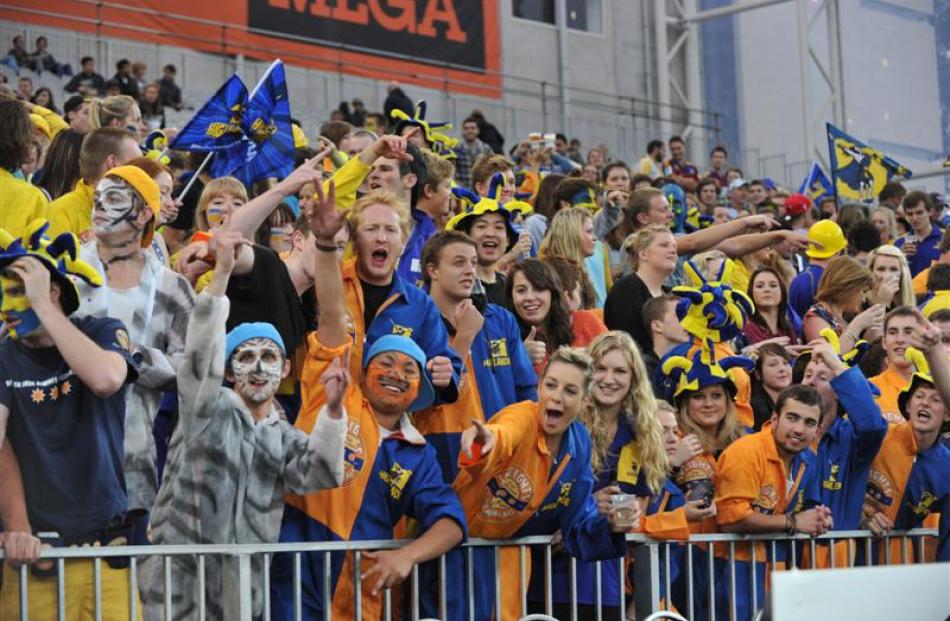 Forsyth Barr Stadium's biggest party is back. The Zoo has entertained since 2012 but what's in store for the year ahead? ODT reporter Timothy Brown finds out.
Dunedin's most animalistic celebration of youth and sporting prowess is back.
The Zoo is open and party animals are more than welcome, Highlanders marketing manager Amanda Gould says.
Forsyth Barr Stadium's west-end party zone is reopening for another year and, with the students back and O Week on, a bumper crowd is expected.
''It's going to be a near-capacity Zoo,'' Miss Gould said.
''There's about 100 tickets available at Starters Bar and about 250 available at OUSA.''
Almost 4500 were expected to fill the Zoo and they were encouraged to wear their finest costume.
''We are encouraging people to dress up,'' she said.
In past years, Zoo-goers had worn everything from gorilla costumes to face paint to appearing decidedly underdressed.
This year, the same was hoped for.
When asked what the Highlanders management was looking for, Miss Gould said, ''Different groups with great costumes.''
The best-dressed would be allowed to see the game from a special viewing box with a capacity for 30.
As for advice on winning the best-dressed competition, ''Get there early and try to get near the front, so we can see you,'' she said.
''The most creative, and it could be anything really. We are looking for a bit of effort.''
The Otago University Students' Association communications manager, Tess Trotter, said she was pleased to see the Zoo back.
''We would love to see students supporting the Highlanders and adopting them as their temporary home-away-from-home team,'' she said.
The OUSA was offering ''Zooper passes'' at the International Food Festival at Otago Museum Reserve today. They cost $40 and allowed ticket holders to attend the first five Highlanders home games.
''Just get along and have a good time,'' she said.
''It will be a really awesome atmosphere at the stadium.''
Miss Gould said the crowd at the Zoo helped the Highlanders, particularly against rivals the Crusaders.
''We love it when it's full,'' she said.
''It's a great atmosphere and the players really thrive on it. As long as there aren't too many in red and blacks there, it should be great.''
The Zoo opened in 2012 and has become party central for students at Highlanders home games.