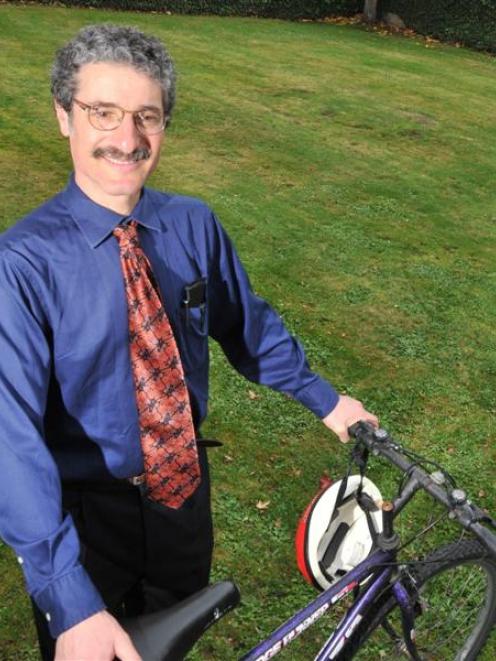 Making Dunedin safer for cyclists and more welcoming for walkers would also make the city more ''livable'' and attractive for its residents and visitors.
That is the view of Todd Litman, a visiting Canadian specialist in innovative transport solutions.
Mr Litman, the founder and executive director of the Victoria Transport Policy Institute, was in Dunedin this week to give a University of Otago Energy Research Centre public lecture on ''Economic Benefits of Walkable and Bikeable Communities''.
Bicycle safety issues in Dunedin have recently been highlighted by the latest in a series of cyclist deaths. Over the years, many such Dunedin fatalities have been on the one-way street system and several have involved cyclists being hit by trucks.
A cyclist and senior lecturer at the university school of dentistry, Dr LiHong ''Chris'' He (34), died after being run over by a truck in Cumberland St, outside Dunedin Hospital, on November 19 last year.
Another cyclist died after being hit by a truck on the one-way system outside Dunedin Railway Station, in November 2011. Mr Litman said these deaths should not be seen in isolation, but indirectly reflected wider problems with a dysfunctional imbalance in transport priorities seen in many cities.
Too much overall emphasis was being put on cars and trucks and not enough on cyclists, walkers and users of public transport.
But everyone, including motorists, would benefit from a new approach, he said in an interview.
More people, including the young, were keen to use bicycles.
A ''complete streets'' approach was designed to safely accommodate diverse modes of transport, users and activities, including cycling, driving and public transport, Mr Litman said.
Doing more to promote safe cycling and public transport, including providing bus lanes where appropriate, brought many benefits, including for motorists, residents and property developers.
There was already a strong trend in the United States towards cities promoting a more cyclist and walker-friendly approach, including in Seattle, and there were big economic as well as health benefits, he said.
Prof Hank Weiss, who heads the Otago University Injury Prevention Research Unit, said the key issue was not simply bicycle safety but making Dunedin more ''livable'' for everybody.