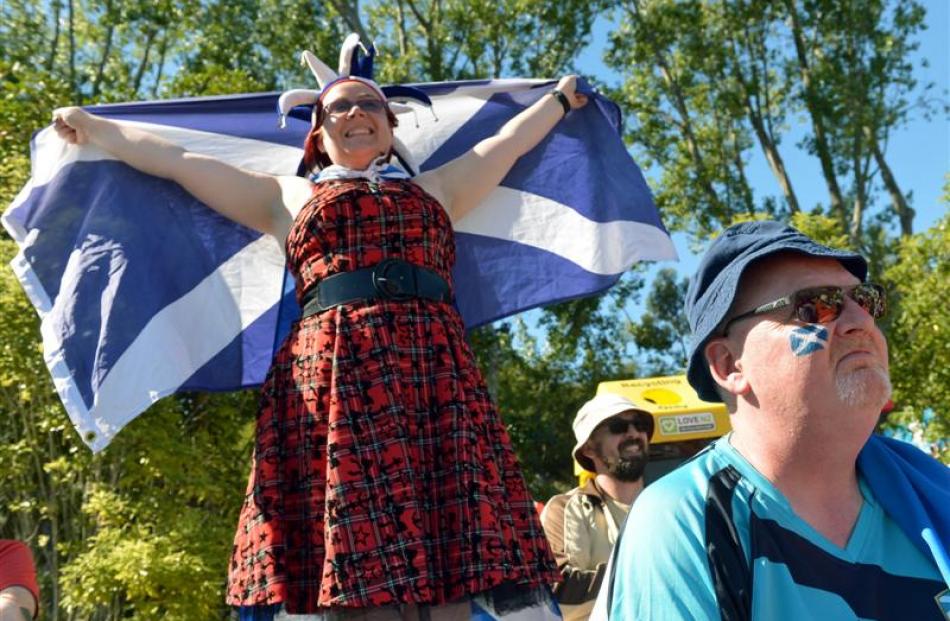 It was not pretty, but the Black Caps scraped past Scotland by three wickets yesterday in the first of three Cricket World Cup matches in Dunedin.
A near capacity crowd of 4684 watched New Zealand remain unbeaten - despite a wobbly finish - at the sun-drenched University Oval.
Police said the ''relaxed and positive'' crowd was well-behaved apart from two incidents - a 20-year-old man arrested for intoxication outside the ground and another man ejected for offensive language.
The sound of bagpipes rang through the air during the match, adding to the atmosphere as pockets of vocal Scottish fans watched their side push the Black Caps all the way.
Scottish fan Stephen Massie (50) was pinching himself. He found it hard to believe he he was watching his beloved side play on the world stage.
''There's still a part of me that doesn't believe I'm here,'' he said.
''I'm just sitting here looking around at the hills and taking in the scenery and the sights. It's just fantastic.''
Massie, who lives in Mauchline, a small town in East Ayrshire, Scotland, is going to all four of Scotland's games in New Zealand.
The idea to follow Scotland at the tournament started out as joke about two years ago.
''When we qualified, I was watching the game at a friend's house. When we won the game, I just jokingly said, `I think I will go'.
''Within a few weeks, I had finally decided I was going.''
Massie was so excited about Scotland's first match yesterday, he was up at dawn and ready to leave his hotel by 6am.
He made a couple of signs to hold up in case his family saw him on television back home.
One read, ''Hello Mauchline'', while the other one for his great-niece read, ''Hello Jessica''.
Massie, who has not missed any of Scotland's home games for the past three years, has one wish while he is in the country.
''A win - preferably over England,'' he said.
''If we only win one, I want it to be against England, please.''
Scotland plays England in Christchurch on Monday in its second match.
Massie, who had not been on a long-haul flight before this trip, will spend tomorrow in Dunedin, before visiting Timaru for three days on his way to Christchurch.
He will then return to Dunedin for Scotland's match against Afghanistan next Thursday, before heading to Nelson to watch his country play Bangladesh.
The proud Scot described Dunedin as a ''beautiful place'' and he planned to do some sightseeing before he leaves.