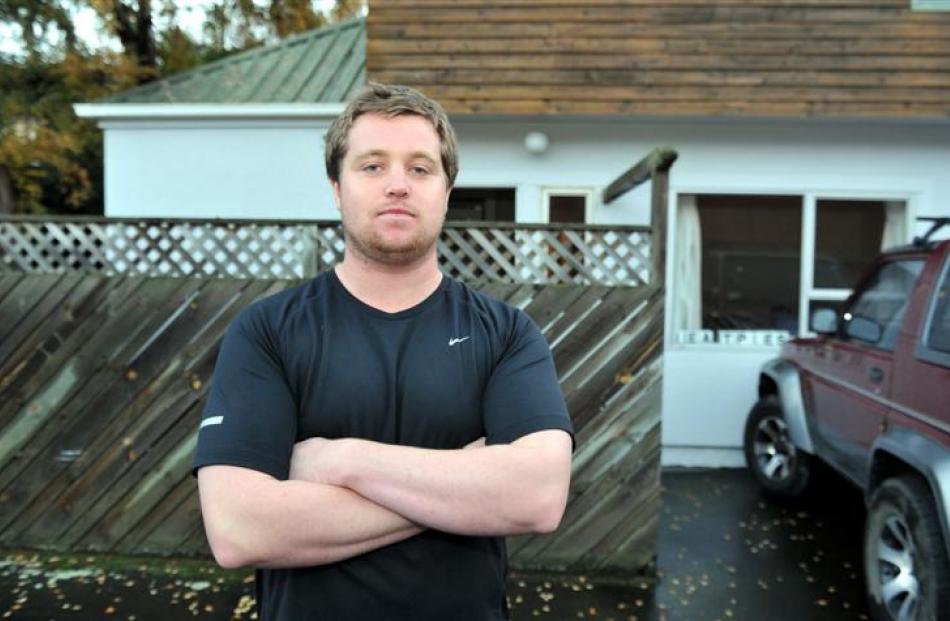 Inner-city residents are calling on the Dunedin City Council to help prevent the historic area from becoming another student slum.
Several residents who either lived or owned property in the area, which includes City Rise, raised their concerns at yesterday's long-term plan hearings.
Marilyn Willis said the number of large out-of-control student flats there threatened what was a significant heritage area.
Her experience living in the area matched that of View St resident Carol Devine, who shared her concerns on TVNZ's Sunday programme.
''I don't personally know Carol, but I admire her bravery [for speaking out].''
The level of ''anarchy'' and ''lawlessness'' there meant some home-owners had moved away and she was embarrassed when visitors came to the area.
''I am totally embarrassed to have my international visitors come and stay with me. In fact, I tell them to stay in a hotel.''
Part of the problem was the student culture in the city, she said.
She had worked at other universities and students there did not behave in the same way they did in Dunedin.
''There are ways of having a wonderful student culture, without it being the culture we have currently got.''
The problem in City Rise went beyond alcohol, with the proliferation of large low-quality student flats part of the problem, she said.
The council could improve the situation by supporting a ''heritage vision'' in the area in collaboration with local building owners.
In response to a question from Cr Benson-Pope, she said it would also be good for different services in the city - for example, Campus Watch and the council - to investigate how they could work together better.
City Rise property owner Meg Davidson told the hearing the council needed to act to protect the area from becoming a ''slum''.
''I now live in the student area and I know more than I want to know about the rubbish, vomit, noise, broken glass and petty vandalism that goes with their partying.
''Without careful planning, the council could see exactly the same scenario played out in City Rise.''
She called on the council to learn ''from the slum that is our student area''.
''It's facile to blame alcohol for the way the area gets trashed every week. Other societies drink more than us and don't have these problems.''
To prevent a similar situation from happening in the inner-city suburbs, the council needed to introduce new design standards to retain the area's heritage and make sure new housing was of a high standard that engendered pride in residents.
''City Rise could be a vibrant, colourful community of people from all walks of life, or it could become a second student ghetto.''
Mayor Dave Cull said the issues Ms Davidson raised were more relevant to the council's district plan than to the LTP.
The council was ''more than happy'' to hear her concerns, but they would be dealt with in a ''completely different'' forum when the council consults on its second-generation plan.
Pitt St resident Elizabeth Kerr endorsed the submissions of earlier speakers on the topic and called on the council to collaborate on a ''pilot study'' in the Royal Tce, Pitt St, Heriot Row precinct aimed at boosting heritage values in the area.
Ann Barsby spoke of her concern about increasing density and said the council needed to help retain the heritage of City Rise.
After the meeting, Otago Polytechnic student Cooper Gilmour (21), who lives in York Pl, said it was ''rubbish'' to suggest the area was going to turn in a slum.
''To be honest, I think it's quietened down over the years. It's got a lot more controlled,'' Mr Gilmour said.
University of Otago students and Royal Tce flatmates Jack Manning and Josh Lloyd (both 20) felt student behaviour was not as bad as suggested in the media, but accepted there could be conflict when students lived in areas alongside non-students.
''Students definitely lead a different lifestyle to regular people,'' Mr Lloyd said.
Mr Manning said their street, which was predominantly home to families, was relatively quiet, but other streets in the area containing more students were loud most weekends.
They both felt coverage on the Sunday programme was not a fair reflection of students in the city.
''There is a small minority that we think are disgusting, but TVNZ portrayed that as being the standard Dunedin student,'' Mr Manning said.