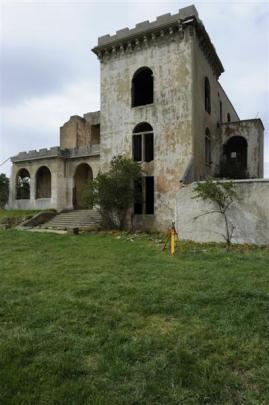 It may be an unassuming building, but music academic Dr Graeme Downes says to those who know its significance in music circles, heritage recognition for Dunedin's Empire Hotel is "a pretty amazing thing".
The Princes St hotel, one of six Otago buildings or sites to have been given Historic Places Act category 1 registration, was throughout the 1980s home to the "Dunedin Sound" and the place where dozens of musicians from bands such as the Verlaines, the Chills and the Bats made their musical debuts.
"The average man in the street probably doesn't know it, but Dunedin is known around the world for its music ...
"The Empire played an immeasurable role in getting the 'Dunedin Sound' off the ground.
"It created an ecology for music and encouraged young musicians to give it a go," Dr Downes, songwriter and vocalist/guitarist for the Verlaines and head of the University of Otago's music department, said yesterday.
Before the Empire, bands played in public halls, Dr Downes said. But after then owners John and Maureen Simpson bought the Empire, someone suggested holding a rock gig there.
Dr Downes, who also spent a period as a barman at the Empire, remembers that night.
"The Clean and the Verlaines were on the bill and admission was 50c. It went well.
"We thought 'here's a pub which doesn't mind having rock bands play' so we tried to have a band play every weekend.
"Within a year, the Empire was a happening thing. It would be packed on Friday and Saturday nights - even if packed was 120 people," Dr Downes said.
He remembers it as "loud and smoky".
"But it had a great atmosphere. I have very, very fond memories of it - its amazing music and amazing vibe."
By the end of the 1980s, Dunedin bands were needing larger venues and the Empire days were largely over, he said.
The other Otago buildings or sites to have new category 1 registrations or to have their registrations upgraded to category 1 are the former Dunedin synagogue in Moray Pl, the Seacliff Lunatic Asylum site at Seacliff, Cargill's Castle at St Clair, the Hayes Engineering Works homestead and the Bullendale gold mine and settlement near Queenstown.
Historic Places Trust Otago-Southland area manager Owen Graham said it was "a great list".
"All have got something special about them and really special stories."
Almost 30 registrations or reviews would be approved in Otago and Southland by the end of the business year in June, he said.
As well as researching and supporting new registrations, his office had been "very active" trying to tidy up existing registrations which needed reviewing.
---
Changes
New category 1 registrations
Former Dunedin synagogue, Moray Pl: New Zealand's oldest synagogue; completed 1864. Became Temple Gallery 1992.
Empire Hotel, Princes St: Hotel on site since 1858; renamed Empire Hotel around 1898; home of the Dunedin Sound in the 1980s.
Seacliff Lunatic Asylum site, Seacliff: Includes Truby King Recreation Reserve, asylum grounds and remaining buildings.
Registration reviews
Cargill's Castle, St Clair: New Zealand's only castle ruin; built for businessman and politician Edward Bowes Cargill 1876; variously used as private home, restaurant and cabaret, and worship centre; registration now upgraded from category 2 to category 1
Hayes Engineering Works, Oturehua: Collection of mud brick farm buildings and workshops dating to 1880s; given category 1 registration 1981, registration extended to include homestead.
Phoenix Mine hydro-electric plant, Bullendale settlement, 27km north of Queenstown: Gold mine originally known as The Reefs and later the Phoenix mine; first hydro-electric power used in New Zealand industry 1886; registered as an archaeological site 1985, registration upgraded to category 1.
Source: New Zealand Historic Places Trust register
---