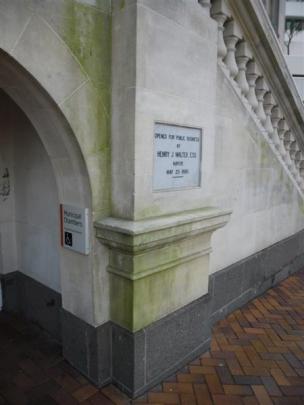 Dunedin city councillor David Benson-Pope feels sick about street vomit in Dunedin - and now he has the pictures to prove it.
Councillors were left squirming as Cr Benson-Pope presented a barrage of pictures of the Octagon, George St and Princes St to highlight his concerns about street cleanliness at Thursday's infrastructure services committee meeting.
The pictures, depicting blood, urine and vomit stains, piles of cigarette butts and general grime, were flashed up on a big screen at Cr Benson-Pope's instruction.
Not even complaints from Cr Richard Thomson, or threats of a point of order from committee chairwoman Cr Kate Wilson, could dissuade the councillor, who campaigned in part on cleaning up the mess.
''Almost done,'' he intoned, while instructing council staff to display image after image after image.
Eventually he relented, declaring himself ''embarrassed'' to have to bring up the matter but ''more embarrassed'' by the state of the streets.
His confronting presentation came as council staff, responding to concerns about litter, presented a report on the city's street-cleaning arrangements to Thursday's meeting.
The report, by roading maintenance engineer Peter Standring, showed the city was divided into zones, blocks within zones and a detailed list of cleaning activities, carried out to specified frequencies as part of the council's contract.
That included a daily clean and twice-daily litter collection in the Octagon and surrounding streets, as well as a variety of other services, such as a six-monthly search to remove chewing gum.
However, Cr Benson-Pope said the report's details - when compared to his pictures - showed the contract was not being carried out as it should, and the work in some cases ''simply isn't happening''.
He was not criticising the efforts of those doing the work, but believed their task was impossible without more resources.
Council staff should take immediate action to ensure that the performance criteria for the contract were met in future, as results to date were ''completely unacceptable'', he said.
Other councillors appeared impressed by the detailed nature of the existing programme, and the work already required, although Cr John Bezett said he ''couldn't argue against'' Cr Benson-Pope's views.
However, Cr Bezett said the focus should be on those who ''took for granted'' that they could litter the city's streets.
The council could never stop some people vomiting in doorways, but could encourage more people to be ''proud of our city'' and dispose of their rubbish properly, he believed.
''They will be rewarded in having a much cleaner city,'' he said.
Cr Mike Lord was impressed by the work contractors already did but believed an education programme was needed to encourage better behaviour by the public.
Kate Wilson suggested free rubbish bags should be given to volunteers prepared to collect rubbish in their areas, while fines were handed out to those caught littering, who until now ''got away with it scot-free''.
''I think there are abilities to fine, and influence some of the best behaviour we would like to see in the city, and I think that's perhaps an area we have been too lax in,'' she said.
Cr Aaron Hawkins believed the council also needed to ''show some leadership'' by doing more to address the ''general shabbiness'' around the city, but Cr Jinty MacTavish believed the focus should be on the ''real crime, which is making the mess in the first place''.
''In my view, there's no excuse for that. It's pure laziness,'' she said.
Councillors voted to ask council chief executive Dr Sue Bidrose to take immediate action to ensure that the contracts were fulfilled.
Council staff would also report back on possible new enforcement measures, as well as education and voluntary initiatives - developed with Keep Dunedin Beautiful - to discourage littering.