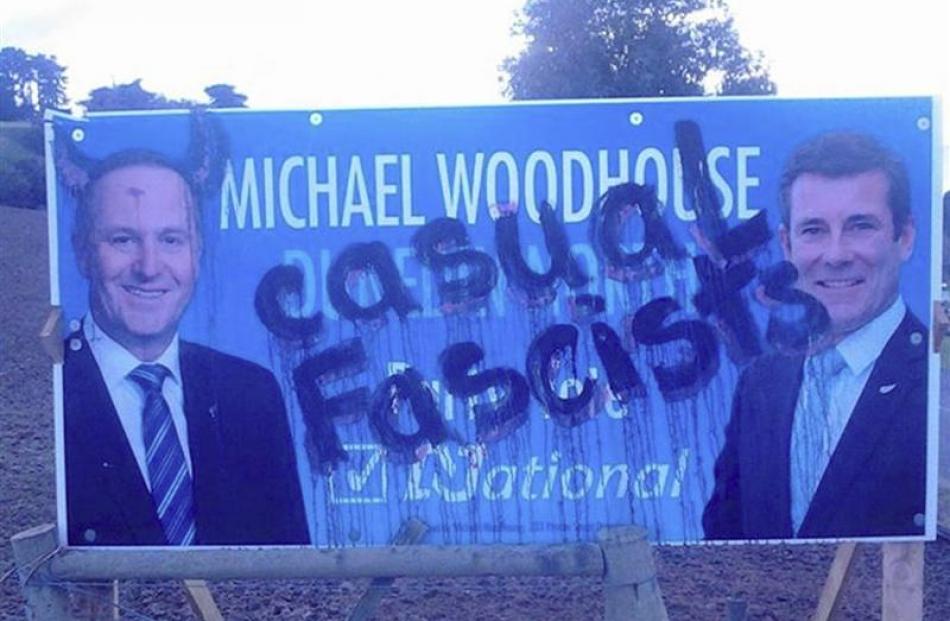 National MP Michael Woodhouse has slammed the defacing of electoral billboards as ''a thuggish and ignorant act of vandalism'', as opponents boast online about other signs to tag.
A National Party billboard, featuring Dunedin North candidate Mr Woodhouse and Prime Minister John Key, was tagged with the phrase ''casual fascists'' at a Purakaunui site on Saturday.
A picture of the defaced billboard was uploaded on Facebook, with the first comment ''Vote Green not the fascist regime!''
Another post recommends another National Party billboard be defaced as it was ''gagging for a tagging''.
The offending Facebook page was removed yesterday.
Mr Woodhouse said he was aware ''that there are some posts of this nature online'', but stopped short of singling out possible links with official Green Party supporters.
''While some online correspondents are apparently connected with the Green Party, I don't think one can conclude there is official Green Party involvement.''
That was confirmed by Green Party co-leader Metiria Turei, who is also standing in the Dunedin North seat held by Labour MP David Clark.
''We don't want people defacing ours, and we don't approve others defacing other parties'.
"They are expensive and they are part of the democratic process to allow parties to put forward their policies,'' she said.
She confirmed she knew one of the Facebook posters, but reiterated the party ''does not endorse the defacement of billboards''.
During the last election campaign one of her billboards went missing and was later found on the wall of a student flat.
''A lot of effort goes into political campaigns, a lot of money is spent and a lot of volunteers spent hours putting up these billboards and taking care of them, and that work needs to be respected,'' she said.
Mr Woodhouse said there had been several cases of vandalism of his billboards since they were erected just over a week ago.
''Democracy involves the promotion of different political parties that not all will support.
''Nevertheless, the defacing of signs is a thuggish and ignorant act of vandalism.
"Where evidence is gathered that identifies the perpetrators of such acts, it will be forwarded to the police and a prosecution will be sought.''