A Twizel businessman says he has had enough of investing in Dunedin after learning the hard way about complying with local planning rules.
Frank Hocken's company, Grant's Motels, spent more than $750,000 on a project he says should have been an investment in the local environment and his family's future, but now he is set to lose more than half a million dollars on it.
Workers yesterday started pulling out 270,000 Douglas firs planted on about 200ha of Mr Hocken's property at the top of the southern end of the Maungatuas, just three years after he had had the land cleared and the trees planted.
Mr Hocken (76) is conceding defeat after the Dunedin City Council prosecuted Grant's Motels for breaching the district plan by planting Douglas firs without consent and planting forestry in a landscape conservation area.
But he says he is ''pretty sore about it'', the rules are crazy, and if people cannot do what they want on their own land, the council should buy it.
He told the Otago Daily Times the property was largely covered in gorse and broom when he bought it about three years ago.
He believed trees would be better than gorse, suck up nutrient and water run-off - potentially easing flooding below - and provide future income for his family.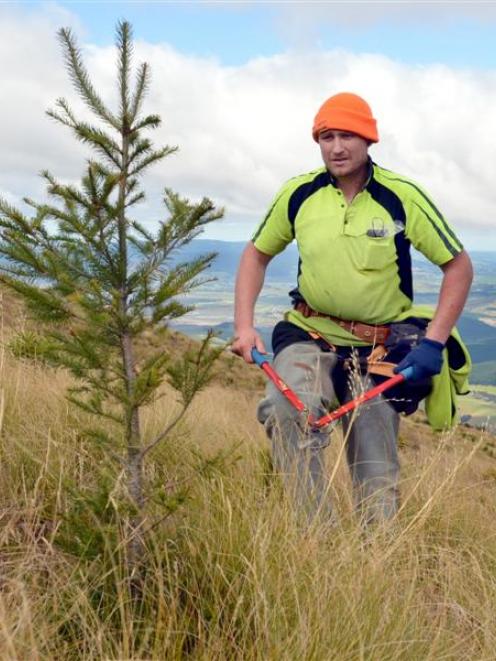 He asked the Otago Regional Council if there would be any issues and received a verbal confirmation, but was not told to check with the DCC and so did not.
He had no discussion with the DCC until he received a letter regarding the breaches from staff, acting on a complaint, about a year ago.
The DCC later argued in court he planted the trees knowing he needed consent, because their records showed someone from Grant's Motels spoke to staff before the trees were planted, although Mr Hocken disputes that.
He applied for retrospective resource consent, but the incomplete application was rejected.
His company was subsequently prosecuted for offences under the Resource Management Act.
The company pleaded guilty at a hearing in the Dunedin District Court in December, and is to be sentenced in May.
''I'll admit I've been wrong as it's turned out ... I'm ... off with the DCC, their red tape and that they've gone out of their way to drop a prosecution on us. They knew we'd work through it, but they didn't want to do that.''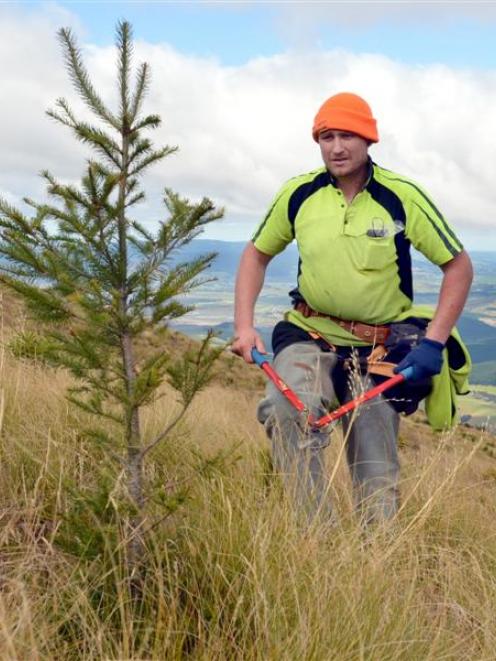 Penalties for the offences range from fines, with an upper limit of $600,000 for an organisation, to two years' jail.
Mr Hocken said even though council staff had been to his property, he still struggled to understand what made the piece of land a natural landscape that needed to be protected.
''What's wrong with trees on it? I can't understand. What's better? Gorse and broom - or trees?''
On top of the $315,000 he paid for the land, which he hoped to get back, and the $400,000 for clearing and planting 270,000 trees, he was spending a significant amount to have the trees removed from all but a 25ha section outside the protected area, for which he planned to seek consent.
''I can carry [the cost], don't worry about that. But I just think it is so stupid.
''I wouldn't want to spend two bob in [Dunedin] any more. I've had a gutsful.''
DCC resource consents manager Alan Worthington said the landscape high on the Maungatuas was predominantly tussock grassland and the key issues with the forestry were the visual impact and that Douglas fir could cause a wilding pine problem.
The size of the plantation made the breach a serious one, he said.
He said he would expect landowners wanting to carry out those sorts of activities to check the planning rules - in place for 12 years now - before they began major projects.
The council provided free professional advice on what the district plan allowed.
Botanist Emeritus Prof Sir Alan Mark, who brought the trees to the council's attention after he spotted them from the road below, said Mr Hocken's was a ''sad'' situation.
''He probably did it in all innocence, but people planting forestry should be aware that Douglas firs are prohibited in many council areas because of the wilding threat.''
Forest and Bird Dunedin branch member Dave McFarlane was also pleased to hear the trees were coming out.
He is part of a group of volunteers who have been removing wilding pines from tussock grassland in the neighbouring Verterburn catchment over the past 10 years.
If Mr Hocken's trees were allowed to spread, they would form a forest that would shade and kill surrounding tussock grassland, affecting bird and invertebrate life dependent on it, as well as the water yield from that area and grazing for neighbouring farmers.