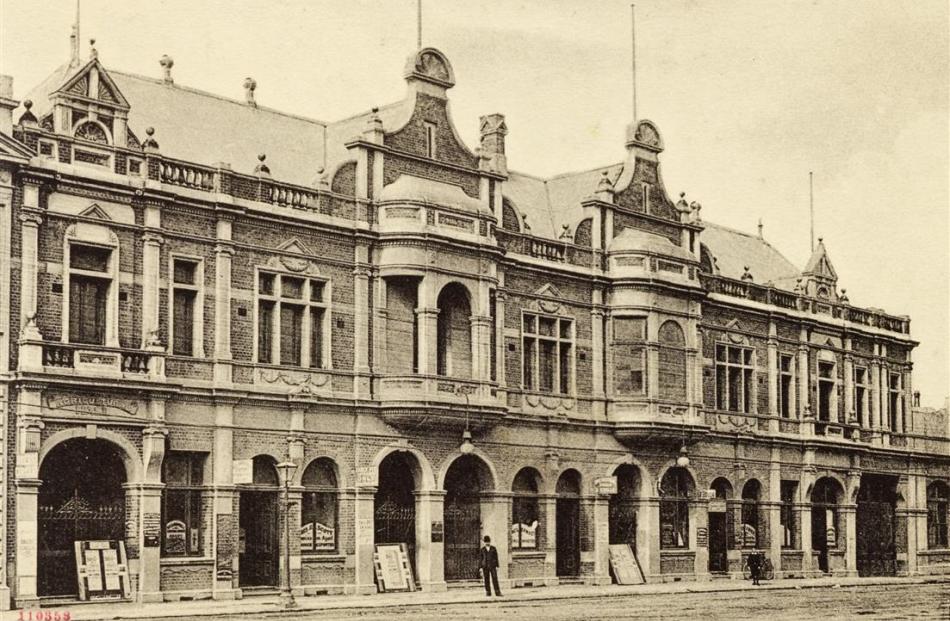 In November, the Otago Daily Times published a photo and a report saying Sammy's, the nightclub at 65 Crawford St, formerly His Majesty's Theatre, was for sale.
Apparently, a prospective purchaser would likely demolish it and use the site as an open air car park.
This concerned me as it is a significant heritage building and, as I have argued in this column before, it's the best candidate to become the mid-sized full-facility theatre a report to the city council some years ago pointed out Dunedin needs.
The Mayfair seats 400, the Regent 1600, Sammy's about 1000. I understand the asking price is $290,000.
It has been managed for many years by Sammy Chin who, with other members of his family, owns it.
They own the building while the land it occupies belongs to a body registered in Auckland. Despite the registration its principals are in fact members of a prominent and well-to-do Dunedin family.
The Chins have offered it for sale because the ground rent has recently risen from $14,000 to $44,000. It seems this makes it difficult to operate as a commercial multi-use live venue which it has been for years.
It is not a registered historic place. It is not scheduled on the district plan. It has little legal protection. I consequently nominated it for scheduling on the revised district plan - 2GP - and for registration as a historic place with Heritage New Zealand.
On December 1, I emailed the mayor and all the councillors, expressing my concern, covering the matters just rehearsed here and saying it would be good if the council pre-emptively bought it to keep Dunedin's option for a mid-sized theatre open. I attached some material backing up my claims about its heritage significance and potential role as a mid-sized theatre.
I did this because I know it will be a long time before the building can be scheduled or registered and in that time it could be fairly easily demolished.
I heard back the same day from Cr Aaron Hawkins who would support any group outside council trying to save it. I also heard back from Mayor Dave Cull that day saying in the first instance he would refer the matter to Glen Hazelton, the city's planner in charge of heritage matters.
On December 4, I heard from Cr Jinty MacTavish, who advised me she's a commissioner to hear submissions on the 2GP and consequently couldn't comment as that would create a conflict of interest.
On December 16, I heard from Cr Lee Vandervis. He considered any action by the council would depend on the view of the matter taken by two of his colleagues.
He also thought it was health and safety matters which had led to the likely demise of Sammy's. I don't think it is because it has been successfully operated as a live venue until very recently. I think it's the jump in the ground rent.
In my earlier columns on Sammy's, I acknowledged it would probably cost some millions to renovate and bring it up to good functionality as a mid-sized theatre. (It would also be good to build a replacement of the original Crawford St front which was demolished in 1975.)
But even if it cost $10 million, that is a lot less than the estimated $35 million it would take to build such a facility on a greenfield site.
I'm well aware the council is carrying a heavy burden of debt. I thought if bought pre-emptively a way might be sought to keep it functioning commercially in the way it has been until now for as long as it takes for the council to relieve itself of its debt burden.
I must confess I am a little disappointed to have only heard from four of the elected members at the time of writing.
I'm aware they are busy, but even just a line or two of acknowledgement, without taking the time to go through my material would have been appreciated.
What is now Sammy's was originally built in 1896-97 for the Otago Agricultural and Pastoral Society and was then called the Otago Agricultural Hall.
The architect was James Hislop (1856 to 1904). It had an impressive front to Crawford St featuring an oriel window, one of two in the complex it formed with another structure to the south.
It might be supposed it was just a hall then, not a theatre with a proscenium arch, a fly loft, off stage wings, and an orchestra pit and these came later when it became His Majesty's.
That isn't so. The 1902 work preceding the name change appears to have been to make it usable as a cinema. It would be a terrible waste to let it go.
● Peter Entwisle is a Dunedin curator, historian and writer.