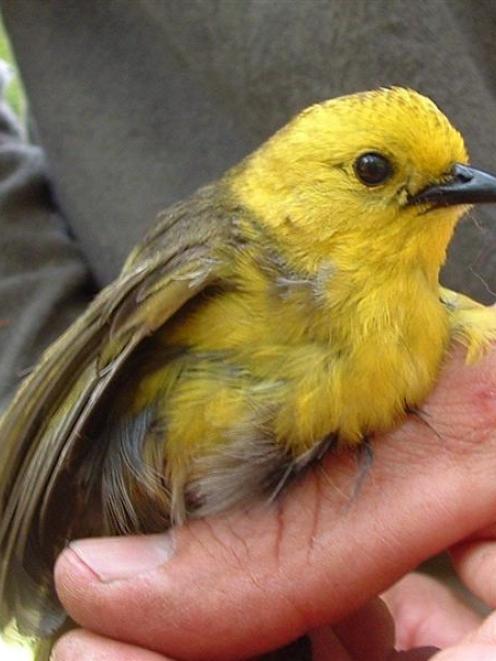 Numbers of the nationally endangered mohua in the Catlins are continuing to stabilise, more than a year on from a poisoning programme to reduce predators.
Department of Conservation staff recently undertook a survey of mohua numbers in the Catlins, with workers in the field reporting there seemed to be plenty of them around, Doc ranger Cheryl Pullar said.
It was thought their numbers were similar to those in previous years, but results from a full analysis of the survey were not yet available.
The mohua, or yellowheads, have been under threat from rats, their main predator, for many years and government-funded Operation Ark programmes and Animal Health Board 1080 poisoning had shown the poison was effective at reducing rat numbers.
In August last year, Doc undertook an aerial 1080 programme, using a lower level of poison on 10ha of forest.
It had been monitoring the rat population since that drop and the "good news was, they hadn't bounced back a great deal", Ms Pullar said.
The tracking index was about 10% to 20%, which was within the range Catlins mohua could cope with. If numbers went over 30%, then staff began to worry, she said.
Numbers usually increased in relation to the amount of food available for the rats, which depended on how well the beech forest flowered.
Doc staff were monitoring the flowering and then the resulting seed fall going into late summer and autumn, she said.