---
• Uniko. Kronos Quartet, Kimmo Pohjohen, Samuli Kosminen.
Ondine CD.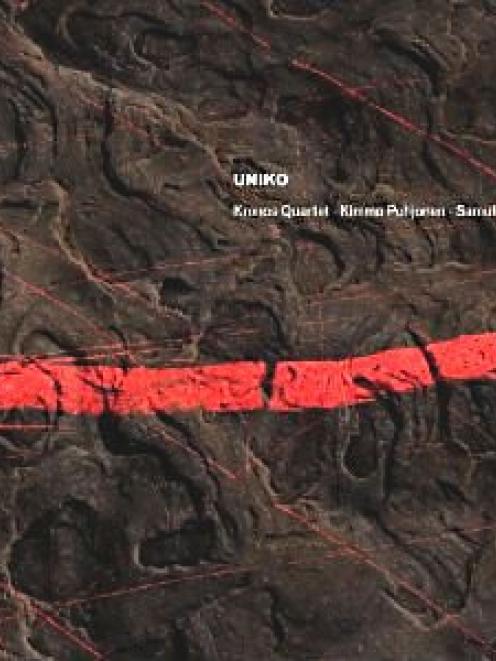 The New York Times
described
Uniko
six sections composed by a Finnish duo Pohjohen (accordion and voice) and Kosminen (a computer sampling guru), thus: "
Uniko
is like an ocean tide coming in. Big waves of sound build in complexity, animation and sometimes sheer frenzy".
Commissioned by Kronos, it's 52 minutes of serial music, with electronic sounds and the adventurous string quartet mixed in new, experimental and minimalist ways. Sounds were recorded in New York, Reykjavik and Helsinki. They have been mixed to make very impressive listening. But this experience will need an acquired taste for the modern in most listeners. The booklet has four pages of a fold-out seascape photo but does not illuminate the composers' intentions.
Highlight: Uniko title refers to dreams, but its sounds are unique.
---
• Southern Landscapes. Jubilate Singers.
Jubilate CD.
Directed by Grant Hutchinson the Jubilate Singers (founded in 1977) are a Christchurch chamber choir who present 16 tracks of music about the South Island. Included are two pieces by John Ritchie as well as his son Anthony's
Triptych: Mountains and Rivers
, inspired by three poems of Denis Glover.
In a different vein are three Kiwi folk song settings by Richard Oswin: Drinking Rum and Raspberry, My Man's Gone and The Day the Pub Burned Down. Other songs include Richard Madden (Three Meditations), Patrick Shepherd (Timeless Land), Chris Archer (Aroha) and Jeremy Woodside (The Small Hours). The singers sound in excellent voice. The accompanying handsome booklet has information and lyrics - and explains background helicopter noise in places!
Dedication: Patrick Shepherd's words and music in Elegy for a Fallen City (Christchurch)
---