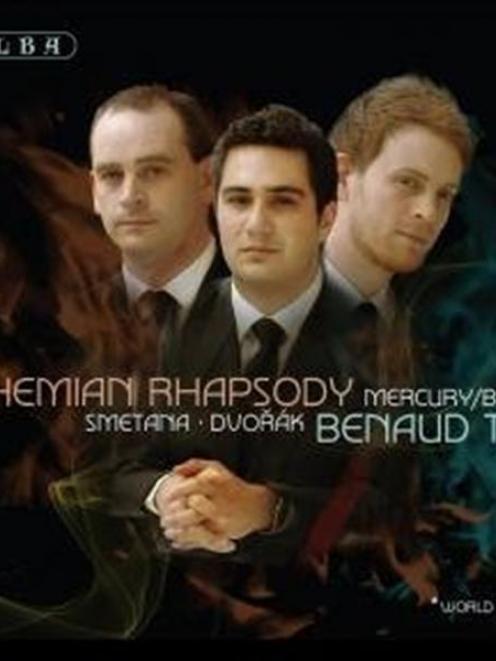 > ''Bohemian Rhapsody''. Benaud Trio. Melba CD.
Following its earlier release on this label, this fine Australian piano trio plays Smetana's Piano Trio in G minor, Op.15 and Dvorak's ''Dumky'' Piano Trio in E Minor Op.90 B166. The two Czech composers were great Bohemians and these romantic works are masterpieces, but the disc really awards its title to its closing brevity that is a world premiere recording.
This is Nicholas Buc's amusing arrangement of the late Freddie Mercury's song Bohemian Rhapsody, a huge hit for the Queen pop group. This trio performs serious music most impressively but enjoys playing with pop encores; it has had Youtube hits with this and Stairway to Heaven. As usual Melba enhances the performances with immaculate sound recording, deluxe packaging and notes.
Highlight: Freddie Mercury's song lives as a fun piano trio item!
---
> ''Choral Reflection on the Lord's Prayer''. The King's Singers. Naxos CD.
This famous male sextet (two countertenors, tenor, two baritones, and bass) has recorded an inspiring musical exploration of Pater Noster. The album includes different versions of ''The Lord's Prayer'', alongside other pieces focusing on each line of text. It begins with Schutz's setting of Psalm 19 and the early 17th-century Polish composer Zielenski's Benedicimus Deum coeli, illuminating ''Our Father, who art in heaven''.
''Thy will be done on earth as it is in heaven'' uses Igor Stravinsky's Pater noster, Poulenc's Quatre Petites Priéres de François d'Assise, and Lassus' Domine Dominus noster.
''And lead us not into temptation, but deliver us from evil'' employs Bernstein's The Lord's Prayer from his Mass. Other composers in a 25-track project include Palestrina, Purcell, Byrd and Tavener.
Highlight: Heavenly singing throughout.
---