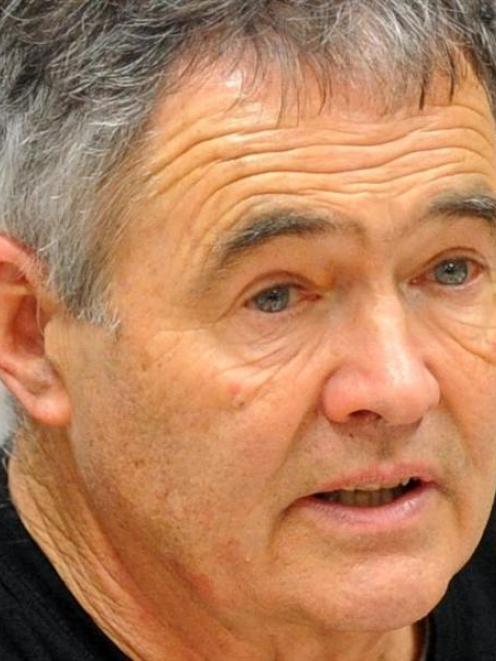 South Dunedin is a suburb under siege by Mother Nature - battered by ocean waves, floods, a rising water table and with the dark clouds of climate change predictions building on the horizon. So is it time to head for the hills? Chris Morris reports.
Dunedin Mayor Dave Cull believes South Dunedin is at a crossroads and it is time to start considering the ''end game''.
That end game could come in many forms, but the options are dramatic and the implications far-reaching, not just for South Dunedin, but the city as a whole.
Just what do you do if the lives of 10,000 people need to be uprooted?
''I think it's one of the biggest issues confronting the city over the next couple of decades,'' Mr Cull told the Otago Daily Times.
''We need to confront it.''
His comments come as South Dunedin residents continue to pick up the sodden pieces after last week's flood, which hammered the city with 175mm of rain in 24 hours.
The deluge was too much for South Dunedin's network of stormwater and wastewater pipes, which soon overflowed, spilling a toxic soup of contaminants into streets and, in some cases, people's homes.
And, as some residents piled tainted possessions on the street, destined for the landfill, others pointed the finger, accusing the council of sitting on its hands and ignoring the state of the suburb's infrastructure.
But flooding is nothing new for South Dunedin, and nor is it the only natural hazard raising questions about its future and that of its businesses, sports fields and 10,000 residents.
The area might be one of New Zealand's oldest suburbs, but it can't escape its past as a ''reclaimed swamp'', Mr Cull said.
Questions have already been asked about the future of areas close to the city's southern coast, as giant ocean swells try to pound the Esplanade at St Clair and its fragile, crumbling sea wall into submission.
The wall is all that stands between the popular beachside area's cluster of high-value businesses and the hungry waves that seem determined to force their way inland.
And, as sections of the sea wall continue to crumble, and voids open up under its pedestrian promenade, the cost to the council - and the city's ratepayers - continues to climb.
Most recently, the council spent another $10,000 last month removing a 12-tonne section of concrete ramp from the wall, after pounding waves caused it to ''unhinge'' and swing loose.
The council has also budgeted to spend $850,000 over the next decade on costs associated with defending the wall.
Millions more dollars destined to be spent on larger engineering solutions have been deferred, but not completely forgotten.
But the waves are not done at St Clair, as they also stripped sand from beaches, forced the closure of a coastal walking track, and left the future of the area's seaside playing fields hanging - almost literally - tenuously in a fight for existence.
And, while attention this week has been firmly focused on water above the surface, another layer of trouble is hidden just below residents' feet.
The area's groundwater table lies in some cases just centimetres below ground, rising and falling with the tide across a large swathe of South Dunedin.
Its presence so close to the surface is a problem. And it is predicted to get worse.
When it rains, the way it did last Wednesday, there is less dry ground for water to soak into.
The results were quickly evident, as water with nowhere else to go sat on the surface, pouring into stormwater drains and eventually houses.
And it is also a problem because the water table is expected to keep rising, exacerbating the flooding threat, as predicted climate change scenarios play out.
All of this leaves Mr Cull with a dilemma - not wanting to alarm people, or suggest a plan that doesn't yet exist, while at the same time laying some cards on the table to start a conversation.
''We won't solve the problem by just renewing the pipes.
''I think we need to be considering the implications of reasonably large-scale urban renewal being planned.''
Some work is, of course, already under way, and rules are changing.
The council already requires new buildings in South Dunedin to be built with higher floor levels, to keep habitable spaces clear of any flooding.
The council was also implementing a development restriction across South Dunedin, controlling subdivisions to keep development to existing levels, as part of its second generation district plan (2GP).
Houses would also have to be relocatable, meaning they could be picked up and moved if the worst scenarios played out.
More expensive suggestions were also outlined last year, when Beca - in a council-commissioned report - recommended a $75 million network of pumps and wells, to draw groundwater away from South Dunedin over the coming decades.
But Mr Cull said other dramatic options might also need to be considered in time.
That could come in the form of government intervention, and legislation, to help buy up large swathes of South Dunedin's oldest houses.
That would make room for bulldozers, clearing the path for better flood defences and, eventually, a new special housing zone developed on artificially raised ground, he suggested.
At the other end of the spectrum was the idea of a managed retreat, in which parts of South Dunedin were left to their fate as Mother Nature took her course.
That could, for example, see areas like Tainui - the lowest-lying part of South Dunedin - becoming a ''small lake'' over time, acting as a giant ''sump'' that drained water from other parts of the suburb.
The range of threats facing the area raised questions about the wisdom of investing in a new South Dunedin library complex, or other expensive assets and infrastructure.
Managed retreat might be a controversial concept, and one sure to divide the community, but Mr Cull believed it was time to start talking about it.
''I would support it [managed retreat] if we looked at the alternatives and retreat was clearly the most efficient and cost-effective.
''It just comes down to what the alternatives are, doesn't it?''
The response
It was not the first time managed retreat has been suggested.
The late civil engineer Phil Cole, formerly the co-chairman of Sustainable Dunedin, envisaged an organised system allowing property owners to be compensated at market rates for abandoning their homes, or swapping them for new homes built elsewhere.
That would allow parts of South Dunedin to be ''tidally inundated'' and slowly convert to salt marsh vegetation, reducing the cost of coastal defence and offering environmental benefits, he said.
It was an idea that continued to resonate with Dr David McKay, of the University of Otago's Centre for Sustainability.
He told the ODT this week the city needed to think long term, and that meant, eventually, there should not be houses in South Dunedin.
''Managed retreat makes sense to me.''
The suburb was ''looking down the barrel of climate change'', with predictions of a 2.5degC increase in mean temperature, and between 0.8m and 1.6m of sea level rise by 2090.
Whether or not the latest flooding was linked to climate change was disputed, but Dr McKay said it was the kind of event that the city could expect to see more of.
The latest flooding was also likely to have created fresh insurance headaches in parts of South Dunedin, with coverage likely to become more difficult and premiums expected to ''go through the roof''.
The challenges outlined for South Dunedin were real, and the city needed to be ''grown-ups and talk about it'', he said.
''It's defensive driving for the city, really. Rather than waiting until the headlights are coming at us ... let's actually get together and plan how we're going to go about doing it.
''The writing is on the wall that this is going to happen,'' he said.
Dunedin South MP Clare Curran said the latest flood was ''a really big wake-up call for Dunedin'', and it was time to talk about the future.
''If that doesn't ring big warning bells, I don't know what does.''
The city needed to urgently review its existing infrastructure, to see if it was fit for purpose, but also think about what came next.
That should include whether some parts of South Dunedin needed to be redeveloped, or instead become ''non-populated''.
Although that could mean some areas were abandoned, it could also mean ''urban redevelopment'' as the community adapted to threats.
''There's a lot to be concerned about and there's a lot of thinking to do.
''It's got to be faced. I do not have my head in the sand on this issue.''
South Dunedin was a resilient community of ''stoic'' people who had built lives in the area, and its businesses, flat land and playing fields were too important to abandon completely, she said.
But it was also among the most densely populated and socio-economically vulnerable in the country, with low incomes.
The issues it faced were too big for the council alone, she said.
Government help would be needed, including through more investment from Wellington in social housing in the area.
Mr Cull said he had since received a receptive response from Deputy Prime Minister Bill English after raising the topic of closer co-operation between the council and the Government in South Dunedin.
However, Mr English would not be drawn on details when asked about the initial talks this week.
Instead, Mr English's spokesman, responding to a list of nine questions, acknowledged only Mr Cull had raised the topic, and that the Government ''is happy to continue having those sort of conversations''.