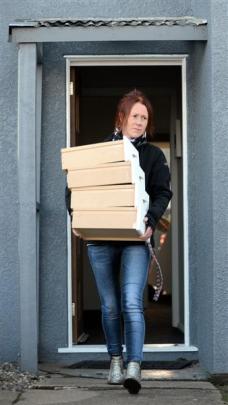 Dunedin Mayor Dave Cull has rubbished suggestions a state of emergency should have been declared after this week's flood.
Dunedin South MP Clare Curran said yesterday ''serious questions'' about the need for a state of emergency declaration needed to be asked after this week's ''horrific'' floods.
But during a press conference yesterday, Mr Cull rejected her suggestion and said it showed Ms Curran was ''clearly ignorant'' of civil defence legislation.
''There's quite clear criteria and thresholds for calling a state of emergency,'' Mr Cull said.
''The emergency services, when assessing this at the time, said we came nowhere near to those thresholds.
''Those criticisms are clearly a lack of understanding and ignorance of the statutory framework we have to work within.''
More than 175mm of rain fell in the city on Wednesday and Thursday, with heavy rain falling continuously for 17 hours.
Ms Curran raised questions about the condition of South Dunedin's sewers, stormwater drains and pump systems.
''South Dunedin's infrastructure clearly had problems coping with heavy rain and rising water tables,'' she said.
''South Dunedin has a high proportion of elderly, disabled and low-income families who struggled to cope. Let's get an urgent assessment done now and not take months or years to debate the changes required.''
Others have questioned the maintenance of South Dunedin's water network, but Mr Cull had a simple message for them: ''They're wrong.''
''We have gone back and looked at our maintenance record and we are confident they were completely up to scratch,'' he said.
''I think what you have to understand, in addition to the system clearly not being built to cope with that kind of event and that volume of water, as soon as you get a flood, a whole lot of crap goes down into the drains at the same time.
"I have spoken to businesses who have had to fish stuff out of their private drains because the flood has taken it down there, but I am confident that the maintenance was up to date on the system in South Dunedin.
''Not long ago, the auditor-general stood up in Parliament and said Dunedin's understanding of its sewage and waste water systems was as good as anywhere in the country.''
Mr Cull agreed changes to the infrastructure were needed to cope with climate change and rising groundwater, but those challenges required a co-ordinated solution from central government, the council and the private sector.
The Christchurch rebuild could provide a model for development of South Dunedin, he said.
''In some areas you might retreat and say this is not an appropriate area to build. In some areas you might increase infrastructural capacity.
"In some areas you might lift the ground level or housing level above the water, and it's looking at all of those things in the round and saying how might we do that.''
He spoke to Deputy Prime Minister Bill English yesterday about the proposal and he was ''very receptive'', Mr Cull said.
South Dunedin was a ''special case'' and legislative change might be required to address its problems, he said.
Yesterday, the flood recovery turned to the cleanup stage, DCC infrastructure and networks general manager Ruth Stokes said.
Six teams of volunteers worked with the Red Cross to help residents and businesses clean up.
The teams worked their way through 18 streets and received 54 calls for assistance, she said.
The council completed 151 house inspections throughout the city yesterday.
The emergency operations centre completed its operations yesterday afternoon and the council transferred to ''business as usual''.
''We will take stock tonight of what we have done and where we have done and that will feed into the effort for tomorrow,'' she said.
The welfare centre would remain open today.
The council had received three expressions of interest for financial help from a mayoral fund set up following the deluge.
Projections on the cost of the flood might not be available for months, she said.
The Department of Conservation has temporarily closed its Sandfly Bay penguin hide after damage caused by last week's large swells.
It has also closed bridges in the Bull Creek area while the district's tracks were checked for signs of damage, a Doc spokesman said.
An engineer was expected to inspect the Bull Creek bridges in the coming days, and details of any other closures would be confirmed by early next week.