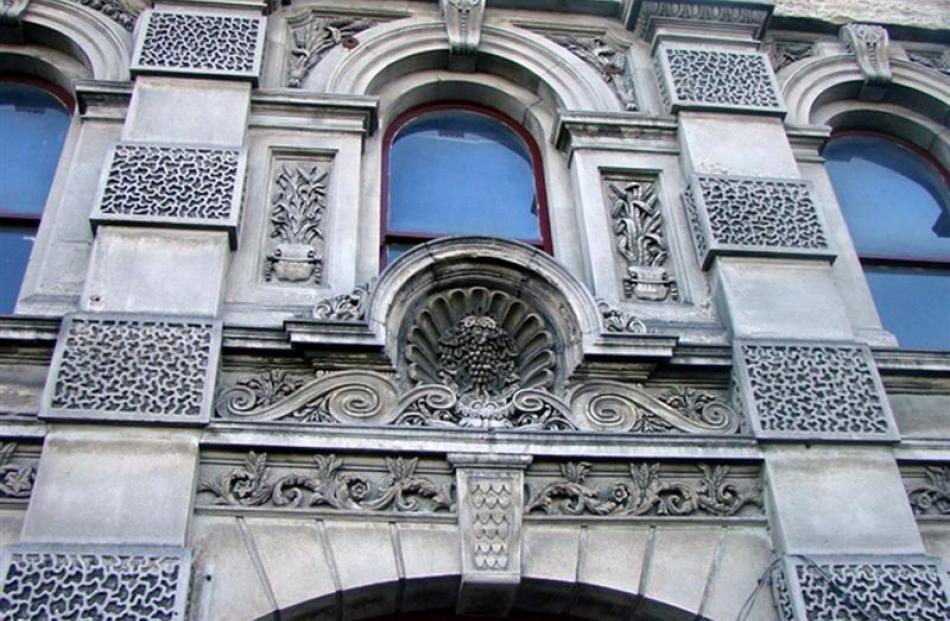 The former New Zealand Loan and Mercantile Agency building is to have a new bright future it seems.
Russell Lund, of Lund South, showed a group of Southern Heritage Trust members through the large building last Tuesday and explained the plans for its future.
It is a very impressive building with some unusual features and is the work of not one but two leading 19th-century architects, William Mason and R.
A. Lawson. It is sited on the corner of Robert Burns and Rattray Sts on reclaimed land on the harbour side of the railway tracks and just across the street from the head of the Steamer Basin.
It has two distinct segments, a long, low bluestone and breccia warehouse to the north, a massive functional building with interesting stonework but fairly plain treatment.
At its south end there is a far more elaborately decorated Oamaru stone office treated to look like an Italian renaissance palace of the Mannerist period.
The interior court of the Palazzo Pitti in Florence is an example. There are also some later, 20th-century additions.
A photograph taken in 1874 shows just the warehouse sitting on what appears to be an island in the harbour attached to the city by a causeway.
It has a basement and two floors above the ground and you might suppose the basement would be damp. Instead, as we saw on the tour, it is as dry as a bone.
Also with its massive weight resting on reclaimed land you might expect it to have settled, but it hasn't. There's no sign of slumping or cracking.
It was built originally for Driver Stewart and Company as a wool store and was at first just the basement and the ground floor.
The builder, Walter Bell, later added another floor and claimed credit for the design.
Mason's biographer, John Stacpoole, said it was impossible to tell who was responsible but he was mistaken. Most unusually, it combines Water of Leith bluestone like the basalt of Knox Church and Port Chalmers breccia, a lighter brownish coloured stone, the latter as quoining for example. M
ason did this on his St Matthew's church in Stafford St and other records support his claim. A Mason and Wales tender advertisement in the Otago Daily Times (9.8.1872) seems clearly for this.
Mason was New Zealand's first official architect appointed in 1840. He moved south, was Dunedin's first mayor and designed what was later called the Stock Exchange, the first building of international class in New Zealand.
By 1880, the warehouse was owned by the ponderously named New Zealand Loan and Mercantile Agency Company Limited, which in that year retained Lawson to carry out additions.
It did again in 1883 but these additions were probably minor. In 1885, it commissioned the southern office and an Otago Witness article (17.10.1885) described it in detail.
Then as now it had a central entrance facing Rattray St which at that time allowed a branch railway line to enter the building whose corridor is still there traversing its entire length.
The exterior was most elaborately worked with vermiculated blocks in the pilasters, scrollwork, floral reliefs and a shell inset in a pediment cradling a bunch of grapes.
Lawson designed some magnificently austere buildings such as First Church but here he gave reign to an impressive capacity for decoration as striking and effective as William Armson's on the old Bank of New Zealand on the corner of Princes and Rattray Sts. The aim was to express opulence and both designers succeeded.
The warehouse was a wool and grain store and is remarkably intact. The grain elevator is still there. In 1929, another floor was added with a sawtooth skylit roof.
It seems there was no architect and the builder William McLellan probably designed it. To carry the extra weight new concrete piles were added.
All three floors are dominated by pillars but Mr Lund and his architect, John McKenzie, have worked very intelligently around this.
They plan to install 24 apartments on the top floor arranged along a central, interior ''street'' open to the skies.
The apartments take their proportions from the building's existing ones and will be generously sized. There are no firm plans for the first floor but some form of travellers' accommodation is contemplated.
At the northern end of the building there is an undistinguished 1960s addition, happily structurally independent of the warehouse. It's planned to demolish this, leaving a sunny northern plaza for the building.
Mayor David Cull accompanied the tour and Mr Lund made unashamed overtures for the city's support. In an industrial zone, the project will need special permission to get a resource consent.
At least some neighbours oppose it for fear of ''reverse sensitivities'' - residents complaining about industrial effects.
Unusually, KiwiRail supports it. So do I. It's an excellent proposal for a splendid building.