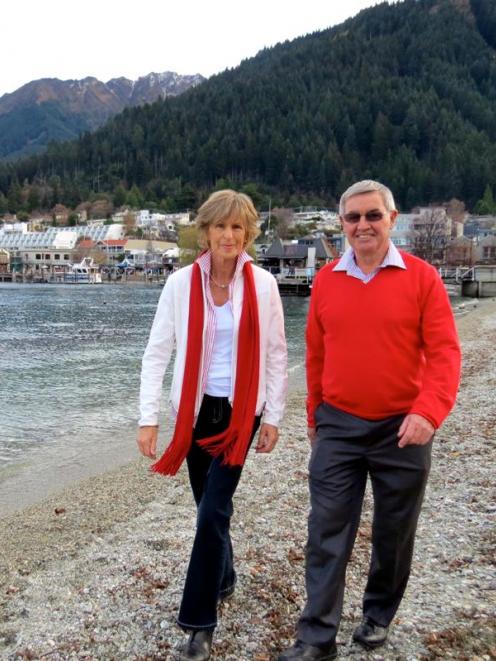 Queenstown's John Davies, QSO, has received a knighthood in the Queen's Birthday 2013 New Zealand Royal Honours.
Sir John was made a Knight Companion of the New Zealand Order of Merit for services to business and tourism.
Former MP and current High Commissioner from New Zealand to the United Kingdom Lockwood Smith; rugby coach Gordon Tietjens, CNZM; and Justice Robert Chambers QC as announced after his sudden death last month, have also been knighted. Nganeko Kaihau Minhinnick JP has been made a Dame Companion of the order for services to Maori and conservation.
Emeritus Prof Albert Wendt, CNZM, topped the honours list, being made a Member of the Order of New Zealand. They were among 179 New Zealanders to be recognised in the 2013 Queen's Birthday honours.
Former Queenstown mayor Sir John Davies' vision and skill in business and tourism earned him a knighthood in the Queen's Birthday Honours, but he derives most pleasure from having persuaded his councillors to buy the freehold block of land that is the village green in Queenstown.
Born in Wellington almost 72 years ago and raised in Dunedin, Sir John is the owner of family firm Trojan Holdings, which has major interests in skiing and other tourism-related ventures in the South Island.
''Every Friday night I go down and have a beer or two and I look across at the village green,'' he said on Friday.
''I had a very good council of the day, but I had a struggle to get them to agree to buy that piece of land for $1.8 million.
''If we hadn't, we would've had a four-storey building on there.
''I think the village green is the heart and soul of Queenstown and if I want anyone to remember a legacy that I have left to this town, it was the drive and foresight to get that piece of land.''
Surprised when told of his honour, Sir John said he also felt pride and was grateful for having received it.
''Over the years I've had great staff and managers and co-directors in all our business involvements and wife [Trish, Lady Davies] and family have been a very big part of it.''
His daughter Jacqui and son Mike hold finance and general management roles in Trojan Holdings.
Farm cadet John and Patricia came to Queenstown in the early 1960s.
After three years they realised they could not afford a farm of their own, so he took the opportunity of buying 40% of Wakatipu Transport. The small company grew over 30 years into Northern Southland Transport, which had almost 250 vehicles on the road at its height.
Between 1975 and 1990, he served as a councillor for 10 years and mayor for six years.
''I'm eternally grateful to people who voted me out of the mayoralty, because I woke up after that and thought 'I've got to do something' and I decided I should diversify into tourism.''
He bought the Routeburn Guided Walk in 1990, followed by the Milford Guided Walk and the Hermitage Hotel at Mt Cook.
He and fellow entrepreneurs and ski staff banded together to buy Coronet Peak, the Remarkables and Mt Hutt ski areas from Air New Zealand in the early 2000s.
''We spent an enormous amount of money, one year in excess of $30 million at Coronet, when we did the base building and the snow-making, and I've always had an interest in aviation.
''Back in the 1980s, when I was mayor, I purchased the Government's 40% share in Queenstown Airport and I always had the vision Queenstown Airport was key to here.''
He was told at the time he would ''never get a jet into Queenstown and you'll never get an international flight''.
''When we took over the skifields in 2002, there were about five or six international flights a week in the ski season into Queenstown and there are now 41 a week. Coming up in July and August, there are over 350 flights into Queenstown from Australia at the height of the ski season.
''The airlines have benefited, the airport's benefited, the accommodation providers, rental car companies, restaurants, shops, bars, supermarkets. I don't think there's a person who hasn't had some benefit, particularly driven by NZSki, [from] the development of skiing in the last decade here.''
Sir John said he had great faith in tourism and Queenstown.
''I hope in the next five or six years there will be 500 flights in July and August from Australia.''
His advice for those in business and tourism have been his watchwords from day one: ''You've got to get the product right. All the things we have purchased over the years have been run down and everywhere we've strived to get the product right.
''It's all about customer satisfaction and the world's your oyster.''
---
John Stratton Davies, QSO: KNZM for services to business and tourism
Significant interests include Trojan Holdings Ltd, which includes 40% of New Zealand Bungy, plus Mt Cook's Hermitage Hotel, Aoraki Mount Cook Alpine Village and Glacier Explorers and Ultimate Hikes on the Routeburn, Milford and Greenstone tracks.
Property interests include Stratton House, site of a casino joint venture between SkyCity and Skyline Enterprises, and the Station Building, both in Queenstown.
• Chairman of Queenstown Airport.
• Chairman of NZSki Ltd.
• Queenstown borough mayor 1983 to 1986.
• Queenstown Lakes mayor 1986 to 1989.
• New Zealand Conservation Authority during the 1990s.
Honours and awards include the Queenstown Chamber of Commerce Lifetime Achievement Award 2010, the Queen's Service Order 1995, and appointed Companion of the Queen's Service Order in 1995.
---