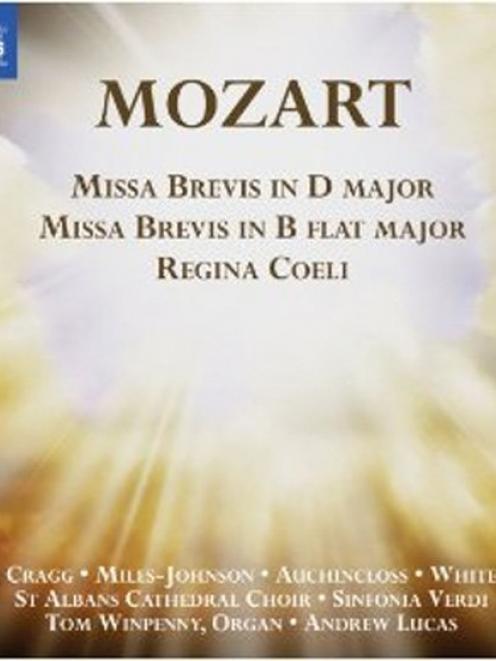 > Mozart: Missa Brevis in D major and in B flat major, Regina Coeli. St Albans Cathedral Choir, Sinfonia Verdi. Naxos CD
During his years in Salzburg, the masterful Mozart wrote a series of shorter mass settings based on models of Michael Haydn. 
Andrew Lucas conducts the all-male choir and orchestra here in a pair of them (K.194 and K.275) with four fine soloists: Elizabeth Cragg (soprano), Deborah Miles-Johnson (contralto), Daniel Auchincloss (tenor) and Lawrence White (bass).
Cragg is elegantly featured in the opening item Regina Coeli in B flat major K.127, that shows the composer's wonderful skill in writing for the solo voice.
The D major mass K.194 is a work of great solemnity with expressive contrasts but the K.275 is perhaps more notable for its sublime lyricism and grace. The four soloists blend very well, White providing a rich, dark voice, well balanced with the soprano, contralto and light, soaring voice of the tenor.
It is nice to hear all these works so well accompanied by a period instrument ensemble. The cathedral choir is outstanding, although slightly treble-heavy at times.
Two masses in one programme are by no means too much for a listener as they are both relatively brief, have a different character and are so well performed.
Another bonus in this programme is one of Mozart's finest works for the pipe organ Allegro and Andante (Fantasia) in F minor K.608, capably played with power and drama by Tom Winpenny as an interlude between the two masses.
It is a work that has rightly become a favourite in the organ repertory.
Highlight: Regina Coeli, fine introduction to attractive Mozart items.