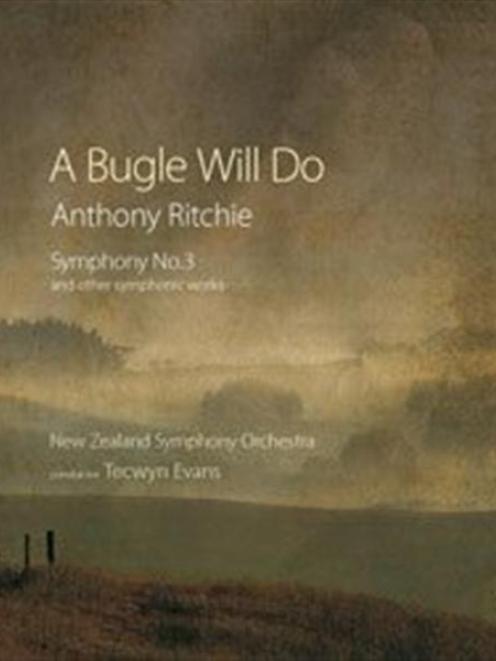 > Anthony Ritchie: A Bugle Will Do, etc. NZ Symphony Orchestra. Atoll CD.
Dunedin music lovers will remember hearing the Southern Sinfonia play some of this music in our Town Hall. Here the NZSO under former Dunedin conductor Tecwyn Evans performs four works recorded in the Wellington Town Hall in 2010.
The title work A Bugle Will Do (1995) is followed by the two-movement Symphony No.3 (2010), then French Overture (2008) and finally Revelations (1998). All of these works are symphonic and given strong and sympathetic performances.
A Bugle Will Do, commemorating war hero Charles Upham VC, was an overture commissioned by the NZSO, as was French Overture. I enjoyed the Allegro Furioso of the "Up" movement in the third symphony most - and the national orchestra has always excelled in the percussion section!
Highlight: Fine works by local composer.
---
> "Island Song" (NZ music). NZ Symphony Orchestra, etc. Trust records CD.
This compilation of previously issued NZ music opens with Lilburn's Drysdale Overture (1937) played by the NZSO under Kenneth Young. This combination appears again for Gareth Farr's Orakau (1999) and Waipoua (1994), as well as the brief Andante (Remembered Songs) from David Farquhar's Symphony No.3 (2002). The NZ Chamber Orchestra performs John Ritchie's Allegro & Air from Suite No.1 for String Orchestra (1956) as well as Farr's Te Parenga (2000.) Bridget Douglas (flute) and Rachel Thomson (piano) play John Ritchie's The Snow Goose (1999) and the New Zealand Trio plays the title track John Psathas' Island Songs (1995).
A diverse selection of our home-grown music, with varying recording quality. The booklet, illustrated with art, lacks information on recording locations.
Highlight: Waipoua (a part of Sea Gongs).
---