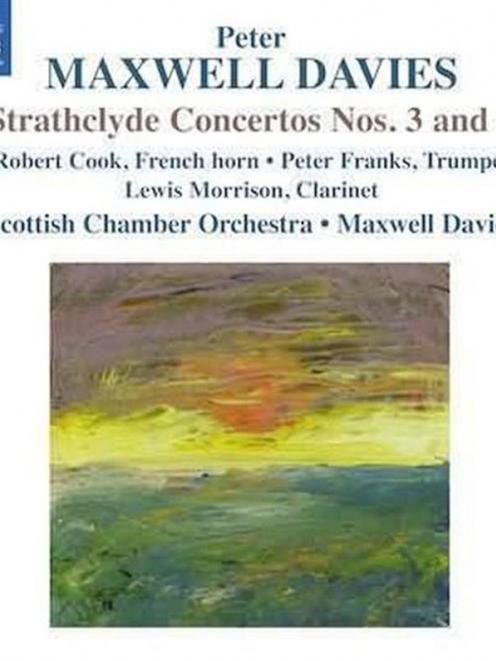 > Maxwell Davies: Strathclyde Concertos No 3 and No 4. Scottish Chamber Orchestra. Naxos CD.
Conducted by the composer, Sir Peter Maxwell Davies, the orchestra premiered these two excellent concertos in 1991 (previously released by Collins Classics). Strathclyde Concertos spanned a decade, being a group of 10 composed one each year for the Scottish orchestra.
No 3 (1989) is for French horn and trumpet, brilliantly played by Robert Cook and Peter Franks respectively. No 4 (1990) is for the clarinet (Lewis Morrison). They are both brilliant five-movement works - impressive testaments to the composer's genius and allowing the solo instruments a full range of exciting tonal effects and required virtuosity.
The soloists are displayed in sharp relief to the orchestra, with a full brass section (in No 3) or other clarinets (No 4) withdrawn from distracting competition.
Highlight: Fourth-movement cadenzas in both concertos.
---
> The Violin. Nicola Benedetti,various orchestras. Decca CD.
Being a compilation of the young Scottish violinist's greatest hits, avid collectors of her previous albums will find only three of the dozen tracks are new recordings: Brahms' brief Hungarian Dance No 5, Chopin's Nocturne No 20 (transcribed Milstein) and Monti's Czardas (freshly recorded).
It is a pity to find only single movements reprised from her excellent concertos by Vivaldi, Tchaikovsky and Bruch. There are some repetitions of brevities included in ''The Silver Violin'' album as well as Vaughan Williams' The Lark Ascending, Massenet's Meditation, and Part's Spiegel im Spiegel from the ''Fantasie'' album.
A lustrous tone comes from the Strad (she has been loaned two 12 million instruments) but I still would have preferred to hear her tackling new concertos in all their movements.
Highlight: Tchaikovsky's Allegro Vivacissimo finale.
---