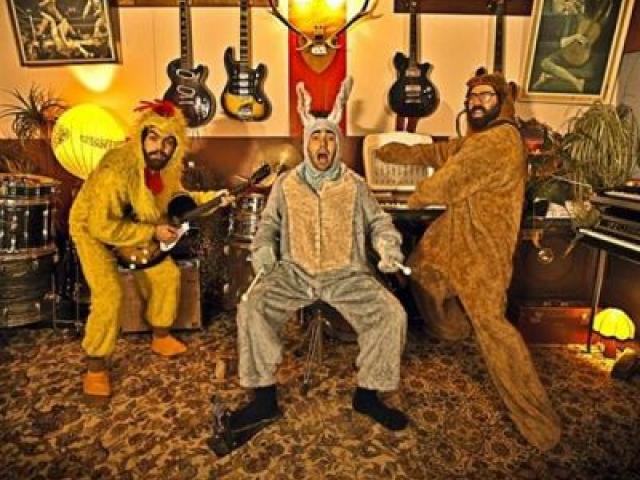 The Nudge are a band known for, well, giving it a bit of a nudge, so to speak, frequently, as the above picture of them in animal costumes shows.
Band member James Coyle says their nationwide tour is going well.
"It's actually going great guns, this whole pie theme; whilst intriguing a lot of people with its kookiness, it's actually forming the base of a lot of interviews and conversations.
"Pies are proving to be endearing. Everyone has a story or a favourite, so conversations are rolling hot off the tongue."
However, a band touring isn't generally about what band members eat. Fortunately, Coyle says the shows are also going well.
"In terms of the music, we have had two great responses from two great shows. The first in Wellington was sold out and was an epic night. We sold out of pies too!
"It was more of a pizza-fuelled night at the Leigh Sawmill, where the crowd showed their appreciation by buying lots of CDs."
On this tour, band members are playing shows in furry animal suits. Coyle says it's part of their stage persona.
"Heh heh heh, we turn into our big Nudge pie aliases: Riddly Jackwabbit, Scotty Rooster and Rockly Bear."
When asked who's teed up to launder their playing costumes in the South Island, he replied: "That's a good question, to be honest; don't expect the suits in the South Island."
He says the pies theme came from bad fast-food experiences in their hometown.
"Well ... the fish and chips are average in Wellington; not saying the pies are any better. Homemade pies [are] where it is at, and it was through our good womenfolk providing us with food during the recording that we came up with the album's name, Big Nudge Pie."

• The time is right
The man, the music, the legend - John Rowles has announced a nationwide tour, including a date in Dunedin.
Known as the Kawerau Kid, John Rowles has entertained for 45 years and has been compared by some with the late Elvis Presley.
Rowles says that despite being 65 years old, he's up for it.
"It means a lot to me to travel our beautiful country and perform one last time for all those people who have supported me over the last 45 years, and most importantly to know I'll be giving them 100%. The voice feels great, I feel great and the time feels right."
John Rowles will [miraculously] appear in Dunedin in October.

• One to get excited about
Time to get excited, and don't hide it, feel free to lose control, because they like it ...
Motown legends The Pointer Sisters are returning to New Zealand in November for shows in Auckland and Wellington.
The band is considered one of the hottest R and B acts of the '70s and '80s with chart-busting hits including So Shy, Jump (For My Love), Neutron Dance and I'm So Excited.
The Pointer Sisters began their formal vocal training in their father's church, The Church of God in West Oakland, California, going on to achieve worldwide fame, and have secured a place in pop music history as a dynamic female group.
In 1994, a massive crowd swarmed to Hollywood Boulevard to see the ladies receive a star on the Hollywood Walk of Fame, an event proclaimed "Pointer Sisters Day" in Hollywood.
Today The Pointers - Ruth, Anita, and June's granddaughter, Sadako - show few signs of slowing down, still maintaining a busy touring schedule, performing all over the world.