For non-rugby fans, the Rugby World Cup is good for at least one thing. The Real NZ Roadshow is bringing the Phoenix Foundation to Dunedin for a free show this Friday, September 8.
The Wellington popsters are set to play with the Thomas Oliver Band at Urban Factory, from 8pm.It could be the last time people can see and hear The Phoenix Foundation live as they're about to release Buffalo in Europe where it's believed they'll be based for a while.

• Nightmare on tour
Legendary hard rocker Alice Cooper plays in New Zealand later in the month. He has recently recorded a sequel to his classic 1975 album Welcome to my Nightmare. Welcome 2 my Nightmare is set for release on September 23. However, fans at the Auckland show the day before may well hear some of the songs in advance.
Recorded with long-time collaborator Bob Ezrin, who produced Welcome to my Nightmare in 1975, the new album picks up right where they left off.
Some of the hardest-hitting names in the American rock scene lent their talents to the recording, including Jeff Blue (Linkin Park), Brandon Friesen (Nickelback, Sum41), Scott Humphrey (Metallica, Mötley Crüe, Andrew WK, The Cult), Rowan Robertson (Dio) and Matt Sorum (Velvet Revolver/Guns N'Roses).
Recently re-formed New Zealand band Head Like a Hole are lined up to play support at the Auckland gig.

• Revisit the '80s
For those who never got over Radio Dunedin's 1980s playlists, there's an opportunity early next year to clap their private eyes on "the number one selling duo in music history" Daryl Hall and John Oates. The pair are playing their first concerts in Aotearoa in more than 30 years, supported by Aussie rockers Icehouse.
They do "A Day on the Green" winery concerts in Napier, on Saturday January 28, and Auckland, on Sunday January 29.
Music nerds will be thinking the connection between the two bands is obvious, John Oates having co-written and sung on the Icehouse hit Electric Blue.
New Zealand's Goodshirt is also on the bill.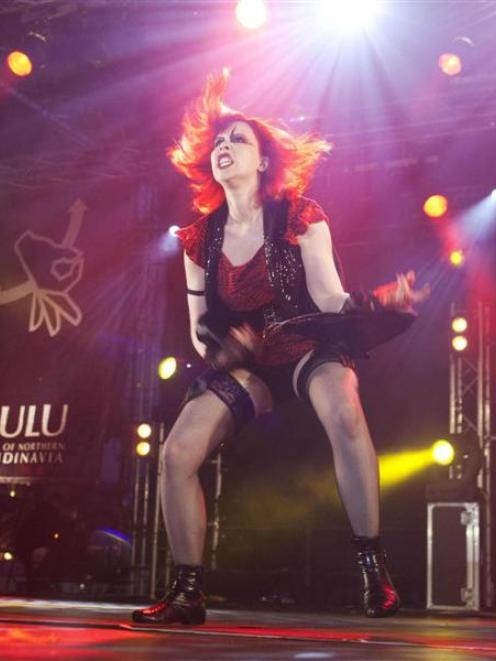 •
Chordless
Aline "the Devil's Niece" Westphal, of Germany, (right) is the new air-guitar world champion after winning the finals in Finland.

• A little bit country
There's even something for country fans this week.
Country rock sensation Jody Direen will perform in the Miller's Flat Hall tonight from 7.30pm.

• Album tour
Six60 will play in Dunedin next month to support the release of their debut album.
See them on Friday, October 14, at the Dunedin Town Hall, Moray Pl. Tickets from www.six60.co.nz or www.ticketdirect.co.nz.