Mahler: Symphony No.2 ''Resurrection''. Arrangement For Two Pianos, Eight Hands. Melba CD.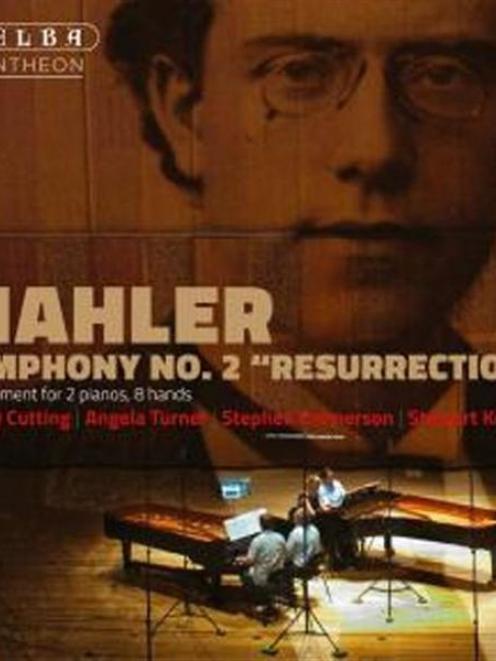 Here is an interesting disc for Mahler fans, beautifully recorded by the Australian label.
The pianists are Brieley Cutting, Angela Turner, Stephen Emmerson and Stewart Kelly.
Emmerson explains in the accompanying booklet that the composer arranged a number of his symphonies for two players on two pianos.
In 1895 Hermann Behn completed his version of the Resurrection for two pianos and Bruno Walter arranged it for piano duet in 1899.
But this is a double duet, employing eight hands on two pianos arranged by Heinrich von Bocklet 100 years ago in 1914.
Four musicians are better equipped to convey ideas in such a massive symphony and to provide all the necessary sonority.
After the dramatic funeral march in the long first movement comes three shorter movements and then the powerful finale that last more than half an-hour.
This is believed to be the first recording of a Mahler symphony in this sort of arrangement.
It comes off surprisingly well with all the essential ingredients of melodies, harmonies and rhythms plus musical gestures and contrapuntal textures.
Perhaps not surprising, since Ravel and Debussy both created piano duet versions for some of their orchestral works and such a complex work as Stravinsky's The Rite of Spring has a fine and frequently played piano duet version.
Eight hands on a symphony seems to be even more successful.
Emmerson suggests this arrangement might be less grandiose or bombastic, than the orchestral original but more intimate, like chamber music.
He rightly says it enables ''glorious music'' to be heard and appreciated afresh.
Verdict: New way of hearing great symphony.