Verdi: Falstaff. Metropolitan Opera soloists, orchestra and chorus. Decca DVD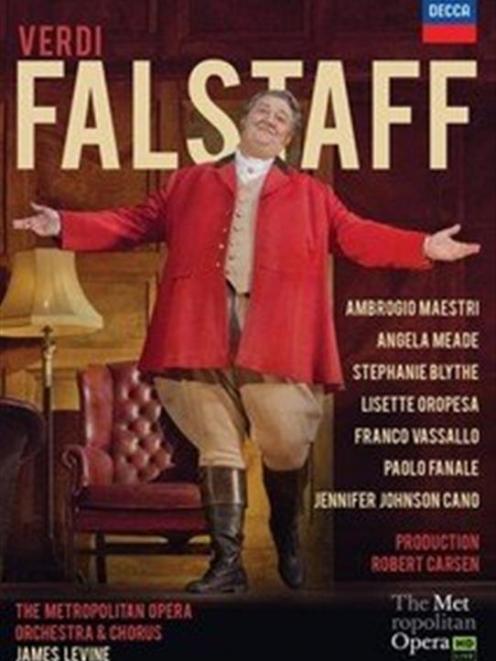 This is Verdi's final, brilliant masterpiece.
He wrote more than 20 operas, this last one in 1893 when nearly 80.
His second opera Un Giorno di Segno was a comedy, and he had longed for 50 years to write another one.
The plot is based on a Shakespeare character, fat knight Sir John Falstaff, from The Merry Wives of Windsor and Henry IV.
The whole world may be nothing but a jest filled with jesters but "he who laughs last laughs best'' becomes the conclusion of a superb production.
Among the soloists, tall baritone Ambrogio Maestri (padded up as the loveable rascal Falstaff), Lisette Oropesa (Nannetta), Angela Meade (Alice Ford) and Stephanie Blythe (Mistress Quickly) stand out but all the cast are outstanding and each interacts and contributes greatly to the hilarity of this production.
It incorporates delightful elements of farce and slapstick featuring the rotund and scheming knight with the large but merry wives of Windsor.
James Levine leads the spirited Met Orchestra and Robert Carsen directed the staging, which has updated the action from the time of Henry IV to England in the 1950s.
So the opera begins not in a tavern but with Falstaff living in a grand hotel.
His room is adorned with dirty dishes and empty wine bottles.
Then amorous schemes to raise money to pay bills lead to a kitchen scene where Falstaff hides, stuffed into a laundry basket before being tossed out a window to soak in the River Thames, and being taught further lessons.
Verdict: Brilliant music accompanies laughs.
- Geoff Adams 
---