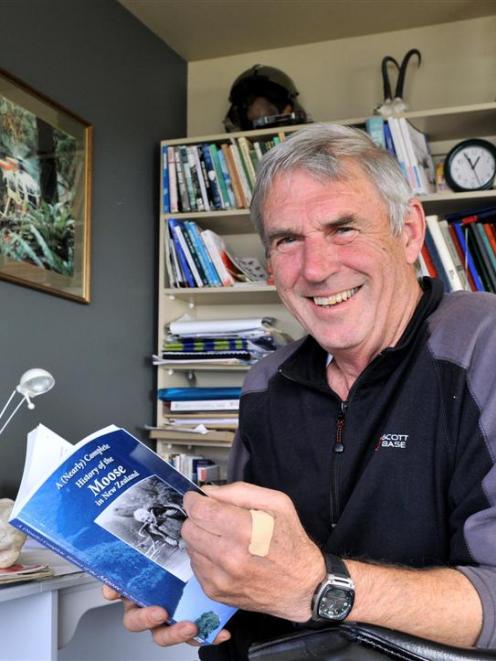 Decades of stories and rumours about moose sightings have been brought together in a new book which celebrates the 100th anniversary of the animal's release in Fiordland.
A (nearly) Complete History of the Moose in New Zealand was written by moose-hunter Ken Tustin, of Bull Creek, near Milton.
"I thought it would be a good time to pull together all the stories that relate to moose history."
Ten young moose, brought out from Canada, were released in Fiordland on April 9, 1910.
In the more than 30 years Mr Tustin had been hunting the elusive moose, he had also been collecting stories and material about other sightings and shootings.
He had told the tales in the book, as told to him, and some took a lot of digging out, he said.
"Some of these rumours were from the '70s and . . . some took 25 years to resolve."
While there was material from the early days of their release, when legal hunting ended in the 1930s, a "shroud of secrecy" covered any sightings or shootings of moose for many years.
The book, Mr Tustin's second, was also the opportunity to tell the stories of some of the people in Fiordland who saw moose such as the lighthouse keeper, the surveyors, fishermen, hunters and pilots, he said.
"I tried, as best I could, to tell what these guys were doing in there . . . in such a formidable, intimidating chunk of New Zealand."
He hoped the book would put to rest some scepticism about the existence of the moose in recent times.
"It does fill in the gaps and shows the history goes beyond the '50s."
Mr Tustin had dedicated the book to three men, Robin Smith, Max Curtis and Percy Lyes, who had brought the stories of moose back to life in the 1950s after Mr Lyes shot one.
Mr Tustin kept in touch with Mr Smith, who is 82 and lives in Australia, and the widows of Mr Curtis and Mr Lyes.
"They were like my All Blacks."
The book is due to be in retail outlets from today.