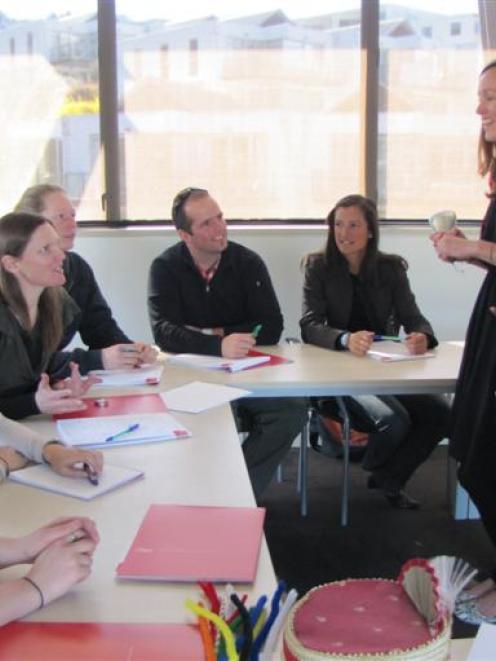 The first and last impressions of Queenstown of the 1.89 million visitors to the resort every year have never been more important in this age of instant global communication, but is customer service in the resort as exceptional as it could or should be?
One attempt to professionally develop Queenstown's tourism staff to improve visitor experiences, and so bolster the Wakatipu's reputation and encourage more tourism, marked its first year of operation in late September.
The Spirit of Queenstown programme offered by the Queenstown Resort College has improved and standardised the knowledge of the Wakatipu, visitor origins and cross-cultural communication of 125 customer service providers in all sectors since it was launched, including 50 from Ngai Tahu Tourism.
About 100 Real Journeys staff participated in a customised "cultural intelligence course" and the operator was looking at having all 300 staff complete the course.
While it was not appropriate for the college to judge businesses, it was providing a platform and tools operators could utilise to help provide better customer service "and we've got the perfect course for them", chief executive Charlie Phillips said.
"Some companies have taken Spirit of Queenstown on board pretty seriously. It's our vision that we'll have one of these courses going every week with 30 people on it.
"Our goal is that everybody within Tourism New Zealand will have done this course in the next five years."
The college appointed business development manager Sarah Cairns to promote the $99 one-day course directly to operators in Queenstown starting from today, then eventually throughout the Southern Lakes and the country.
Ms Cairns said the college wanted to "equip people with the tools to host visitors in an extraordinary way beyond mainstream customer service".
"All Queenstown customer contact professionals should see themselves as ambassadors for the Southern Lakes and be striving to create exceptional experiences through engagement, connection and personalised service that create the visitors' 'perfect day'."
However, Queenstown's customer service staff performed "pretty well" compared with some other South Island tourist destinations, Restaurant Association of New Zealand Southern Lakes branch president Cameron Mitchell said.
Mr Mitchell, who owns the Bunker Restaurant and Bar, said hospitality was a career choice for him and his peers and they all trained their staff.
Mr Mitchell and several of his peers had not experienced bad service in the resort and they wondered why Queenstown kept getting "slated" for bad service and asked for statistical evidence.
"I don't think there's a problem. I've spoken to head office of the Restaurant Association today and they deal with a first line of complaints from patrons across the board and they said they don't get anything from Queenstown. It's more the rest of the country."
Hospitality New Zealand Central Otago president David Mercer, also Coronet Peak Hotel general manager, said he had not heard any feedback about "seriously bad" customer service in Queenstown.
However, the voluntary trade association was in the process of putting together its annual training plan for 2012 and was approaching all industry operators to find out which training programmes they wanted.
The 19 Hospitality NZ members throughout the Southern Lakes and Central Otago employed about 1000 staff and were always conscious of running good businesses, Mr Mercer said.
Asked if Queenstown's transient workforce played a part in leaving some visitors with negative impressions, Mr Mercer said it was always challenging for owner-operators to have a consistent level of service because of high staff turnover. Rates paid in Queenstown were probably higher than elsewhere in New Zealand.
"I think it's the nature of the Queenstown beast in terms of there are probably quite a high amount of overseas workers and those people may not necessarily be hospitality people. They're coming here to work and getting into a career that is probably different to what they would be doing back at home.
"It's a continual process of training your staff and making sure they are customer focused."
Mr Phillips said everyone who worked in tourism had a responsibility to understand the nature of their job and be engaged in delivering the best service.
"Disneyland is made up of a lot of profit centres, a lot of independent businesses working within one theme, but they all know what time Donald Duck's parade's on and they all know where the toilets are, so there are some common areas of knowledge there which need to be equated to what we do here in tourism in general."
---
She'll be right?
Overall visitor satisfaction in New Zealand was pegged at 8, on a scale of one to 10, for the year ended June 2011, compared with 8.1 for the previous year.
This was according to the latest Ministry of Economic Development regional visitor monitor of Queenstown and the five other major tourism regions.
The visitor satisfaction score of 8 was lower than Australia at 8.5, the United Kingdom at 8.4, China at 8.6, Japan at 8.2 and the United States at 8.7 in the same period.
Do you think customer service in Queenstown is the best in New Zealand, or the worst, or just plain average?
What has been your experience? Email news@queenstowntimes.co.nz today.
---